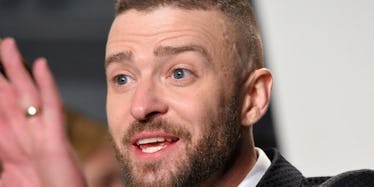 Justin Timberlake Really Didn't Want Beyoncé Or Adele To Win Album Of The Year
REX/Shutterstock
Looks like Justin Timberlake may have just Kanye'd Adele after her Album of the Year win at the Grammys. He may not have stormed the stage, but he might as well have just said "Yo, Adele, I'm really happy for you, I'ma let you finish but..."
The only un-Kanye thing about it is that JT doesn't think the award should go to Beyoncé, but instead an artist who wasn't even nominated for the Grammy!
Although, the fact that he wasn't nominated was because he purposely didn't submit his album for consideration.
Yup, Timberlake thinks Frank Ocean should have gotten the Album of the Year Grammy for his album Blonde instead of Adele receiving the honor for 25.
The point of view is interesting because the Album of the Year award has already created a ton of controversy among fans, though most of them were arguing the award should have gone to Beyoncé for Lemonade.
After voicing his love for Frank Ocean's new song "Slide" with Calvin Harris and Migos, Timberlake tweeted out that Ocean's 2016 album Blonde was the "REAL" Album of the Year.
And honestly... maybe Frank Ocean could have been the Album of the Year winner (though given how much the Grammys fawn over Adele, it's not likely). Blonde was met with pretty much universal critical acclaim when Ocean surprise-released it in August and wound up on many prominent "Best Of" lists.
But we'll never know for sure if Ocean could have taken home the big win, since the R&B singer did not submit Blonde for Grammy consideration.
As the 2017 Grammys were airing, Ocean explained why he didn't want to be part of the awards show in a scathing post on his Tumblr, calling out "the cultural bias and general nerve damage" that he feels the awards show inflicts on viewers.
He cites Taylor Swift's 1989 beating out Kendrick Lamar's To Pimp A Butterfly for Album of the Year last year as an example of the show's bias.
After that condemnation, it doesn't look like Frank Ocean is going to be getting any Grammys in the years to come... unless the showrunners take his criticism to heart and agree to change some stuff up.
But until then, sorry Justin Timberlake, but it's Adele's world and we're just living in it.