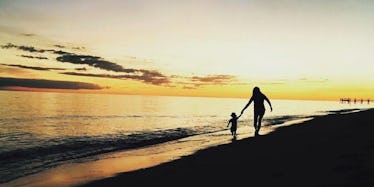 Justin Timberlake Wrote The Sweetest Message To Jessica Biel: 'I Marvel At You'
Instagram
Justin Timberlake's Mother's Day shoutout to Jessica Biel will give you all the feelings. And you can't stop them. See what I did there?
Justin Timberlake and Jessica Biel, who married in 2012, share one son together, 2-year-old Silas.
While the adorable superstar couple famously keep Silas out of the spotlight, only sharing a rare pic here and there, they aren't shy when it comes to gushing about each other or how much they love being parents.
Sunday was no exception. Justin's Mother's Day tribute is seriously sappy -- in the best way.
Along with a sunset shot of his wife and son on the beach, Timberlake wrote,
I marvel at you. It's so hard to put into words EVERYTHING a Mother does. And, you do it with such grace. Thank you for giving me the greatest gift and continuing to show him what it means to be a good person in the world. You make me realize how much my own Mother has done for me. #HappyMothersDay to you, my love. And, to my wonderful Mother and all the Moms all over the world: Y'all really DO RUN THIS... I bow down to you. --JT
The 36-year-old singer really hit all the high points. Adorable photo of his son and wife? Check. Perfect expression of gratitude and awe? Check. Remembering his own mom and mothers around the world? Check. Beyoncé reference? CHECK.
I think at this point we all recognize JT has a way with words, whether he's talking, singing or writing on social media.
For his wife's 35th birthday in March, the "Can't Stop The Feeling" singer posted another perfect caption, writing,
You make me laugh. You make me smile. You make me LOVE. You make me want to be BETTER. Speaking of, it doesn't get any BETTER than you... Now, I know for sure that it's BETTER to be lucky than good. Ask me who the luckiest guy in the world is and I will tell you that you are looking at him. Happy Birthday, my heart.
But Justin's not the only one who knows how to open up and make us all swoon. Jessica recently spoke to E! about how being a mom has influenced her work as an actress, and life in general. She shared,
I'm just more emotional, more sensitive, more everything... to the world. So in my work, I'm just finding that I'm more open-hearted... I don't know if that sounds kind of goofy or what, but I just feel that I'm always ready for anything and everything at this point with an open heart and an open mind, and compassion and patience. I think as a parent you have to have so much of that, that that's informed my work a lot.
UGH, they are just too damn perfect.
Citations: Justin Timberlake Wins Mother's Day With Touching Tribute to Jessica Biel: ''I Marvel at You'' (E! News)