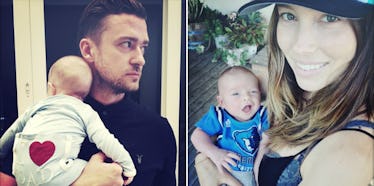 Justin Timberlake On Being A Dad: 'I Have No Idea What I'm Doing'
Instagram
I don't know if y'all are ready -- I know I'm not -- but Justin Timberlake's Netflix concert special, "Justin Timberlake + the Tennessee Kids," is finally here.
The special, which is a collaboration between JT and Academy Award-winning director Jonathan Demme, will showcase the last day of Timberlake's recent world tour and comes out on Netflix this Wednesday, October 12.
The 35-year-old superstar sat down with "TODAY's" Billy Geist to talk about the Netflix special, as well as what it's like being a dad and a husband.
As you can hear in the clip above, Justin Timberlake was more nervous for the premiere of "Justin Timberlake + the Tennessee Kids" than he has been for anything else in his career.
Geist asked JT if he ever thinks about just how far he's come since the beginning of his career, to which the Memphis, Tennessee native replied,
Yeah, man, every day. I mean... yeah, every day. Now, more so than ever while it's actually happening.
One thing that is undoubtedly more challenging than even his latest project, though, is being a dad to his 1-year-old son, Silas.
Speaking of how he's been influenced by Silas, Justin Timberlake said,
It changes everything. You literally just wake up, look in the mirror and go, 'I have no idea what I'm doing.' It changes everything. I would've never written a song like 'Can't Stop the Feeling.'
JT continued,
I don't know that it was directly inspired to be something that my son could listen to of mine because there's a lot of music he can't listen to of mine, at least not yet.
As the interview continued, Timberlake spoke more about his feelings for his wife, Jessica Biel, and his son, Silas, saying,
It's crazy... this new appreciation for both of them, her and him, and it's humiliating and it's humbling at the same time.
Damn, I don't know about y'all, but I'm straight up crying over here. To hear Justin Timberlake talk about fatherhood with such a genuine appreciation and happiness is just, well, incredibly inspiring.
I know what I'm doing Wednesday night.
Citations: Justin Timberlake Gets Emotional Talking About His 'New Appreciation' for Jessica Biel and Son Silas (ET)