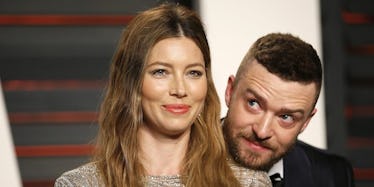 Justin Timberlake Proves He's The Best Husband Ever In BDay Post To Jessica Biel
REUTERS
It's safe to say Jessica Biel is the luckiest woman on the face of the planet.
Not only is she a freakin' beautiful woman with a great career, but she's also married to Justin Timberlake and their relationship is almost too perfect to handle.
Quit being so darn cute, you two!
(Just kidding, keep being cute. It's giving the rest of us hope that our own shitty love lives will be as flawless as yours someday.)
Anyway, Justin isn't afraid to let the world know how much he loves his wife, and his latest Instagram post is giving us all the feels.
The romantic singer gave Jessica a shoutout for her 35th birthday on Friday by sharing a precious selfie of him kissing her on the cheek.
Again... can they get any cuter?! SHEESH.
If that picture isn't enough to tug at your heartstrings, wait until you read the caption. It's enough to make you sob happy tears of love and admiration for the bond they share.
Justin gushed over his wife, saying,
You make me laugh. You make me smile. You make me LOVE. You make me want to be BETTER. Speaking of, it doesn't get any BETTER than you...
Best husband ever? Yeah, I think so.
He continued,
Now, I know for sure that it's BETTER to be lucky than good. Ask me who the luckiest guy in the world is and I will tell you that you are looking at him. Happy Birthday, my heart. --J
OK, that's it. I'm convinced I'll never find a man as loving and dedicated as Justin Timberlake.
His adorable Insta shoutout certainly isn't the only way Justin's showed his ongoing admiration for his wife, though.
Just last week, he opened up the Oscars by performing his Oscar-nominated song, "Can't Stop The Feeling," and danced with Jessica in the audience.
Not only does this prove their love is strong, but it also confirms the fact that they like to have fun -- and that's just as important as the romance.
Stay perfect, you two.