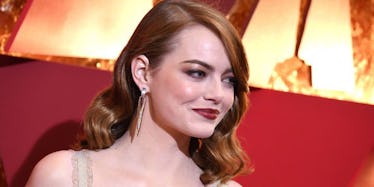 Emma Stone Slams Justin Timberlake And Jessica Biel On Oscars Red Carpet
REX/Shutterstock
Justin Timberlake tried photobombing Emma Stone, and it didn't exactly go his way.
Tonight is arguably the biggest night of Emma Stone's life. Yes, she has had a brush with Oscar gold before in 2015 when she was nominated for her role in "Birdman."
That was only a brush, though. She didn't win an Oscar then and has had to wait a full year for another shot at taking home an Academy Award.
If anyone thinks they have the right to ruin her big night, they are in for a rude awakening. Just ask Justin Timberlake and Jessica Biel.
While giving an interview on the red carpet, Emma Stone had to deal with the couple who decided tonight, EMMA'S NIGHT, was the night to try their hand at photobombing.
Emma doesn't realize Justin is behind her through a large chunk of the interview, grinning like someone who thought photobombing would be cool but hadn't exactly worked out what to do when the actual bombing took place.
At some point, Jessica Biel was pulled into this thing against her will.
After Emma realized what was happening, she jokingly said, "Who are these people?"
BURN, BABY! HOW YOU LIKE DEM APPLES, JUICE?!?!
WHAT THE SWEET FERK ARE YOU TRYING TO PULL, JUSTIN?!?!
For some reason, the internet is a big fan of this move, as if the concept of dignity and respect don't exist.
Stop. Freaking. GIFing. This. Catastrophe.
OH, ALSO!
Stop. Freaking. Memeing. This. Clear. Assault. On. The. Concept. Of Manners.
NO IT WASN'T, CHLOE! IT WAS RUDE!!!!
Wow, HT Entertainment. I guess respecting people on their big nights is just not cool then, huh? You're disgusting.
This admittedly is also a relatively huge night for Justin, as he is also up for an Oscar for that song from "Trolls."
Let's hope karma doesn't come around and eff your night up, Timberlake.