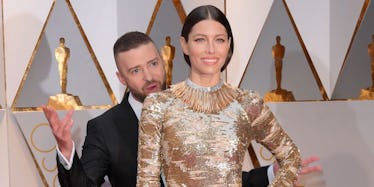 Justin Timberlake And Jessica Biel Share Cute Moment During Oscars Performance
REX/Shutterstock
Talk about a power couple.
Justin Timberlake and his wife, Jessica Biel, showed up to the 2017 Oscar's red carpet like, "HELLO WE ARE HERE AND WE ARE BEAUTIFUL" and the world was like, "Oh my God, HI!" and then we all laughed and laughed.
Timberlake opened the star-lit show with his hit song "Can't Stop The Feeling," bringing dancers through the Oscars audience, up on stage and back down again to dance with Denzel Washington, Halle Berry and Jessica Biel.
The forever showman and impeccable performer, Justin sang live and danced his little baby *NSYNC heart out, uniting with Biel in the audience and singing together in the middle of a celebrity packed venue on the biggest night of entertainment out of the year.
It's like we get it, you're rich and talented and beautiful. NO NEED TO RUB IT IN.
Jessica happily sang along in the crowd before breaking it down with Justin, glowing like the sun in a metallic dress and making it easy for the crowd to find the couple amongst the chaos.
What IS it about happy celebrity couples that make you cry happy tears and also want to vomit at the same time?
And, DAMN, are these two likeabe?! The two of them goofing around on the red carpet pre-show and Justin telling Ryan Seacrest Jessica's dress is "perfection" are everything.
Timberlake finished his performance singing a rendition of "Lovely Day" by Bill Withers, and is a nominee for Best Original Song up against Lin-Manuel Miranda and Auli'i Cravalho's "How Far I'll Go" (from "Moana"), Sting's "The Empty Chair" (from the film "Jim: The James Foley Story") and "Audition" ("The Fools Who Dream") and "City of Stars" from crowd favorite, "La La Land."
Weirdly enough, my bowl of ice cream and I shared a similar intimate moment in my apartment Sunday night. Singing together in my living room and looking into one another's eyes.