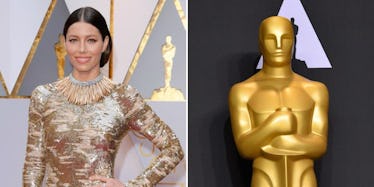 Jessica Biel Looks Like Her Own Oscars Statuette On The Red Carpet
REX/Shutterstock
Knock knock.
Who's there?
Oscar statue.
Oscar statue who?
PSYCH. NOT THE REAL ONE. IT'S ME, JESSICA BIEL!
Har. Har. Har. Har.
That's the joke actress and starlet Jessica Biel probably told on the Oscars red carpet on Sunday evening in a stunning metallic gold number that looks just like the shiny award that artists will be vying for.
Rocking what looks like 14-karat (18 karat? 24 karat? What's the highest quality of gold? That's the one I mean) sheen from head to toe, Biel stunned in this slim fitting gown, topped with a, I don't know, weapon of a beauty necklace designed by Tiffany & Co.
Exuding regal elegance, she sure as hell has the bone structure of a statue, but better because she's a real-life person and no one's trophy, OK?! Not even a pop prince's!
Speaking of, her husband -- who you might have seen around -- Justin Timberlake doesn't look so bad either, rocking a Tom Ford tux that gives way to Biel's KaufmanFranco-designed triumph of a dress in photos.
Yup, you heard that right. The designer's name is KaufmanFranco.
Try saying that 10 times fast while being broadcast live across the world.
NO THANKS. WE'LL LEAVE THAT TO THE RED CARPET EXPERTS AND RYAN "I REFUSE TO EVOLVE" SEACREST WHO KEEPS TELLING OSCAR-WORTHY ACTRESSES THEIR DRESSES ARE "COOL," WHICH IS A GROSS UNDERSTATEMENT, AND, LIKE, WHY IS HE STILL DOING THIS, RYAN, WHAT'S UP DUDE?
But I digress.
Timberlake is a performer at the Oscars, and one thing is for sure, he'll be able to spot his gorgeous wife in the crowd since she literally beams like the sun, and we can only assume the room will be well-lit because, you know, TV.
Timberlake told Seacrest he calls his wife's dress "perfection," and the kid ain't wrong. It's certainly a step up from "cool."