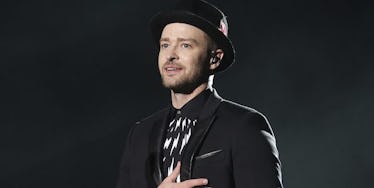 The 5 Best Justin Timberlake Songs To Use To Get In Someone's Pants
Youssef Boudlal/REUTERS
Justin Randall Timberlake, you will always have my heart. And today, on your 36th birthday, I feel it's necessary to profess my love.
I may not have been a loyal "Mickey Mouse Club" follower, but a good part of my '90s was spent drooling over each of your bleached blonde curls while *NSYNC still remained intact.
I applauded your decision to go solo and really made a conscious effort not to think both "Summer Love" and "Rock Your Body" were written with me in mind. They just touched my soul in so many different ways.
During the course of your five studio albums, you've managed to fuse such soulful R&B beats with some overly sexualized lyrics, and I thank you for that. In fact, I want more of it.
While I commend your comedic chops and all-around acting talents (shout out to "Shrek The Third" and "Model Behavior"), I'm going to have to request you stick to music.
Your soothing sound just makes any occasion that much more spectacular. A dose of JT in the bedroom makes for a pretty great baby-making playlist, in particular. But you must be well aware of that already.
(Damn you, Jessica Biel.)
In honor of Justin's big 3-6, I've decided to round up his latest and greatest hits that would be best suited when seducing that special someone in hopes of gettin' some.
Ugh. That VOICE, though. Gets me every time.
"SexyBack" (2006)
This is the only time I will ever approve of auto-tuning. "SexyBack" just oozes sexual appeal.
His delivery seems unrehearsed and has a casual, loose feeling, very similar to the buttons on my shirt while I'm listening. It just makes me want to moooovvvveeee (into the bedroom).
This is the type of song that will end with you covered in sweat and your clothes strewn across the room. After all, the best way to bring sexy back... is to channel "SexyBack."
Plus, he recruited Timbaland for some vocal backup, and anything with Timbaland is always straight fire.
"Mirrors" (2013)
Eight.
That's how many minutes this groove-worthy tale of two lovers is. That's how many times I listen to the track on a weekly (OK, daily) basis. That's how many wedding pictures I've photoshopped my face into.
"Mirrors" is the ultimate song to blast during that chilly cuddle session or a sweet love-making session.
*cue JT voice* Cause with your hand in my hand and a pocket full of soul, I can tell you there's no place we couldn't go...
Those lyrics are just pure poetry.
BE MINE, JUSTIN.
"Señorita" (2002)
JT brings out a little Latin flavor with this track off his first solo album, "Justified."
It's attention-grabby and fiery, and you can envision him (and yourself) in a club trying to win the attention of a girl with the song (as if every lady or homosexual man wouldn't be THROWING themselves at him if given the opportunity).
This one just makes me want to whip out my maracas and shake my nonexistent hips from side-to-side. No? Just me? It's hard to stop.
"My Love" (2006)
Another synth-pop medley in a similar vein to "SexyBack," Justin plays well off the hard back sounds and introduction of percussion.
It has a steady tempo, but can still be categorized as a romantic slow jam perfect for bumpin' and grindin'. Whether single as fuck or in a long-ass relationship, it's a love song that you actually want to listen to.
This is the type of song that encourages long eye contact where you stare deep into someone's soul. You develop a real connection and get invested.
And fucking to the beat? Highly recommended.
I always like a guy who knows how to be versatile.
"Can't Stop The Feeling!" (2016)
It's literally impossible not to cheese up while listening to this feel-good track.
The upbeat pop-disco fusion warrants nothing but fun and tons of high energy from you. You want to get up and dance, and move and shake. Justin's voice, along with his all-white outfit and overall angelic presence in the video, encourages nothing but an uplifting escape from reality.
Grab your partner, roll those windows down and just sing at the top of your lungs — and then go bang.
You're going to be so pumped up from a track like this that there's no better way to exert that verve than in the bedroom. This is the "let's have fun and try new things" kinda sex I'm talking about.
Oh, JT, what a good influence you are.
You can never have too much Justin Timberlake.