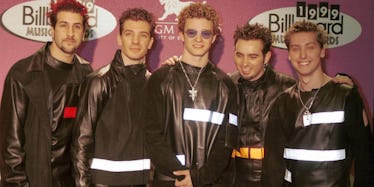 *NSYNC Had A Reunion And '90s Girls Can't Contain Themselves
REX/Shutterstock
IT'S TEARIN' UP MY HEART WHEN I'M WITH YOU. BUT WHEN WE ARE APART, I FEEL IT TOO...
Sorry, somebody stop me. I'm just feeling extra nostalgic this morning after hearing *NSYNC HAD A REUNION.
If you're a '90s baby, I'm sure this gives you all the feels. When I was 12, JC, Justin, Joey, Chris and Lance were all my boyfriends.
Sorry One Direction and Backstreet Boys, but *NSYNC was the greatest boy band of all time. And that's a fact.
On Monday night, the boys reunited to celebrate JC's 40th birthday. Someone snapped an adorable pic of the crew and Justin Timberlake posted it to Instagram.
"AND NO MATTER WHAT I DO, I FEEL THE PAIN... WITH OR WITHOUT YOU."
These guys keep me young.
The only thing wrong with this beautiful photo is they didn't even quote an *NSYNC song. COME ON JT. Give us a little "Bye Bye Bye" or something.
Make me cry harder than I am right now.
I'm not the only one super emotional about this. TWITTER IS FREAKING OUT.
Boys, you heard our cry. WE WANT A REUNION TOUR AND WE WANT IT NOW.
Please?
Citations: NSYNC Reunion (ET Online)