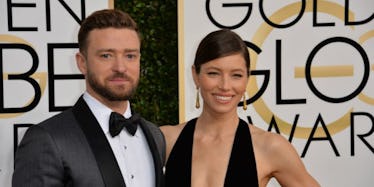 This Was The Flirty Moment Justin Timberlake Met Jessica Biel
REX/Shutterstock
The story of how a couple met is one they'll be telling for their entire life.
My grandparents met while my grandfather was playing in a band. My grandmother went up to him, and he bent down, thinking she was requesting a song, but instead she kissed him.
I met my significant other by swiping right on a dating app and thinking, "Yeah, I wouldn't mind putting my mouth hole on that mouth hole for a long time."
"7h Heaven's" Beverley Mitchell recalls the moment she realized Jessica Biel and Justin Timberlake would be a hot item.
Mitchell told "Access Hollywood Live,"
I was there like the moment the love connection happened. I was like, OK, this is happening... They met, it was at the Golden Globes. It was so cute because they were like — it's that moment like I like you, I think you like me. It was very, very sweet. They were definitely flirting. They were really cute.
Ah, a beautiful person realizing another person is also beautiful -- there's simply no fairytale like it.
She even went on to say Biel would often make fun of her onscreen sister because she was friends with the guys from *NSYNC, which makes it sound like Biel was not the biggest fan of her husband's boyband days.
She used to make fun of me because I'd been friends with like all the guys from *NSYNC years before. She used to literally like give me so much crap!
Biel and Timberlake dated for five years before they were married in October 2012. In April 2015, Biel gave birth to their son Silas Randall.
Mitchell is currently starring in "Hollywood Darlings," which is an "improvised comedy" on the Pop network alongside "Fuller House's" Jodie Sweetin and "Step By Step's" Christine Lakin, which must be a '90s kid's dream come true.
Citations: Beverley Mitchell Remembers the 'Sweet' Moment when Jessica Biel Met Justin Timberlake: 'They Were Definitely Flirting' (People)