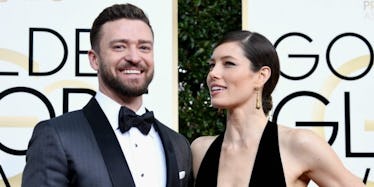 Justin Timberlake Wrote The Sweetest Thing On Instagram To Support Jessica Biel
Getty
In the world of break ups and f*ck boys, it's amazing to see loving and supportive relationships and there's no better example of marriage than Justin Timberlake and Jessica Biel. The singer and actress gush about each other all the time, but their support for each other's careers is next level — and Justin Timberlake's Instagram about Jessica Biel gave me all the feels. In the post, he applauds The Sinner on USA Network, his wife's latest project.
Timberlake posted a trailer from the show with the caption,
OK, I know I'm not exactly fair and maybe biased here, but my wife's new show — @thesinnerusa — is amazing. It's like nothing I've seen her in before, and she's incredible in the role. You should check it out when it premieres Wednesday on USA. — JT
The post now has over 1.4 million views — how's that for support? The Sinner stars Biel as Cora Tannetti, a seemingly normal wife and mother. Her character one day snaps and stabs a stranger on the beach. The twist of this thriller is that instead of figuring out who committed the crime, The Sinner unravels why the crime was committed. Viewers will be taken on a psychological journey throughout the eight episode series. TBH, this show looks like it's going to be awesome, and I can't wait to watch when it premieres August 2 on USA Network.
From overwhelming career support to family values, Timberlake and Biel are definitely couple goals. The pair have been together for about 10 years, and have a 2-year-old son together named Silas. Biel recently opened up to Marie Claire about the secret to a successful marriage. Spoiler: It's all about the same values when it comes to personal life and career. She said,
We have similar values; we believe in loyalty, honesty. We like to have fun. We like a lot of the same things. Also, in the business, we're all very career-oriented, and you have to be a little selfish... I understand that about my peers — about being focused and driven — and if you can find that and someone who shares the same values as you, it's like: Score!
Biel and Timberlake both scored in the marriage department... big time. Their marriage legit gives me so much hope. *Sheds single tear.*