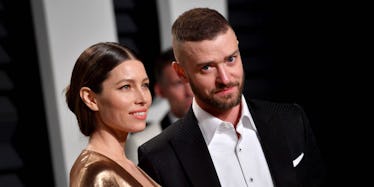 Jessica Biel Perfectly Explained Why Her Marriage To Justin Timberlake Works
Pascal Le Segretain/Getty Images
Look, I'm not Jessica Biel. I don't know what it's like to be married to Justin Timberlake. But, I can make a few assumptions.
Assumption number one: Every time he leaves the house he goes, "Bye bye bye."
Assumption number two: On the last day of April and the first day of May, he hides and doesn't come out or talk to anybody.
Assumption number three: It's pretty freaking awesome.
All of that said, Biel is an acting force to be reckoned with in her own right, and is proud to have dodged the "troubled child-star" cliché that many of her peers fell into after getting their careers started at such a young age.
Breaking onto the small screen in the '90s as Mary Camden on 7th Heaven, Biel told Marie Claire, 
My Hollywood experience as a young person was never one of those True Hollywood Stories where I was left alone to my own devices with no parental supervision. There was always somebody with me.
Supervision or no supervision, Biel's life led her to Justin Timberlake.
J.T. and Biel have been together for roughly 10 years, and have a 2-year-old son named Silas.
Biel let Marie Claire in on what the secret to a successful marriage is between two career-driven people.
She said,
We have similar values; we believe in loyalty, honesty. We like to have fun. We like a lot of the same things. Also, in the business, we're all very career-oriented, and you have to be a little selfish... I understand that about my peers – about being focused and driven — and if you can find that and someone who shares the same values as you, it's like: Score!
Score, indeed.
She continued to say that even in parenthood, she found out a lot about her own wants and needs.
You think you're a selfless person, and then you realize you're not. These little people come around, and they require so much, and your schedule is really not your own, nor is it important anymore, and it's very clear that it's your life now revolving around this dude. I'm not that person who feels like, 'Oh, my whole life changes for my kid,' but it does.
Whatever she and Timberlake are doing, it's working. Biel is set to appear in a new USA series called The Sinner, premiering August 2.
"It's dark," she says, "And it gets weird really fast."
We can't wait!