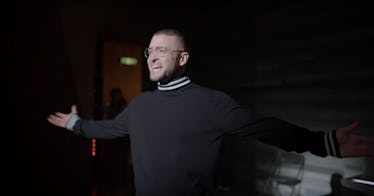 Justin Timberlake Is Basically The New Steve Jobs In His "Filthy" Music Video
YouTube
Are you a Justin Timberlake fan? Who are we kidding, of course you are. And if you love Mr. Timberlake as much as I do (read: VERY much), you'll know that his fifth solo album, Man of the Woods, is dropping on Feb. 2, meaning you now know what your partner can get for you this Valentine's Day. But that's not all he gifted us: Timberlake announced that on Jan. 5, the album's first single and video, "Filthy" would be released. The only thing that would make me more excited than a new Justin Timberlake video is if I won the lottery, TBH, so this is BIG news. And guess what? Justin Timberlake's "Filthy" music video is the stuff dreams are made of: it's a robot dance party with Timberlake basically playing the part of Steve Jobs.
The song "Filthy" is co-produced by Timbaland and Timberlake himself, and, according to the press release, is "colorful, futuristic" and "dance-heavy," and features Timberlake portraying "a modern-day inventor presenting his latest creation to the world." Huh.
OK, so before we saw the music video, that description seemed a bit... interesting. Dance-heavy? Futuristic? Was this going to be Justin Timberlake acting like some mad scientist droppin' it like it's hot to some EDM?
Come on, do you really think J.T. would give us anything less than damn perfection?
Of course not.
So, before we get to the video itself, let me just take a moment to show you how Justin announced the new song about to drop.
On Twitter, he shared a post that depicted the title of the song, and he cautioned his fans that it should be played "very loud" and don't mind me, I'm just salivating a little bit:
I'M SO THIRSTY, YOU GUYS.
And clearly, fans were thirsty too, because after he announced this, people were already ALL about this song and video before it even premiered:
Seriously just mash up all of these reactions into one giant ball, times it by a million, and that's only a fraction of how I felt about this news.
If we're being honest, this video deserves an entire novel dedicated to it's greatness, but sadly, a post from me is just going to have to do the trick because I can't move every mountain, people.
Are we even kidding with this music video? More like musical movie. Justin Timberlake, you deserve ALL the awards for this one.
And because of this amazing kick-off to Man of the Woods, we're equally excited for the rest of the songs on the album. According to the press release, Man of the Woods is Timberlake's "most ambitious album to date, both sonically and lyrically. Combining the sounds of traditional American rock with the modern influences of collaborators The Neptunes, Timbaland, Chris Stapleton, and Alicia Keys, this new material explores storytelling inspired by his son, his wife, and his personal journey from Memphis to where he is today." So wow, no big deal, just Justin documenting his entire personal life and the essential backbone of where he gets his musical inspiration from.
STOP BEING SO HUMBLE, Justin, this is a masterpiece, and you and I both know it.
Also, if you feel like crying, maybe you should check out the video he shared on social media before the debut of "Filthy," where he talks about how his family is the inspiration behind the whole album. In the video, Timberlake says, "This album is really inspired by my son, my wife, my family, but more so than any album I've ever written, where I'm from. And it's personal."
Welp, looks like I'm clearing my schedule to watch this video on repeat all day.