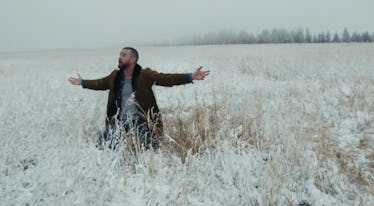 Justin Timberlake's 'Man Of The Woods' Album Is Coming & The Teaser Is So Emotional
2018 is already shaking out to be a better year. For example, my main man JT is finally coming out with some new tunes and I cannot wait! Justin Timberlake's Man Of The Woods album is coming for us, people. And the teaser is seriously intense. It's been almost five years since his latest career triumph, and this ex-boy band member is about due for a new musical experience.
Here's what we know so far: A new song is going to drop sometime on Friday, Jan. 5, so mark your freaking calendars. Beyond that, fans can anticipate the full album coming out on Feb. 2, just in time for Valentine's Day. (You know, I'm assuming there's a love ballad on there somewhere.) Bonus, we know there's at least one cameo from Pharrell, which is a pretty good deal.
In the teaser, Timberlake briefs his fans on the inspiration behind the new album. He says,
This album is really inspired by my son, my wife, my family, but more so than any album I've ever written, where I'm from. And it's personal.
Based on our context clues (like the title of the album and all of the nature shots), we can kind of see where the theme of this is going.
Who knew JT was so into fields?
Take a look.
In the trailer, a woman's voice is heard saying, "It feels like mountains. Trees. Campfires. Like Wild West, but now." Pharrell also talks about the nature aspect, saying, "It feels so earthy. It's just where you are in your life right now." He adds, "THAT... is a smash."
Look, if this album is good enough for Pharrell and JT, it's definitely good enough for me.
Hits like "Mirrors" and "Suit & Tie" off his 2013 20/20 album have carried me through the past five years, and I'm officially hungry for more. Luckily, I know Man Of The Woods is on its way, along with a certain epic Super Bowl halftime show scheduled for Feb. 4.
If you guys recall, JT last hit the Super Bowl stage with Janet Jackson for the Great Wardrobe Malfunction of 2004, aka Nipplegate. At the time, Timberlake and Jackson performed a fire duet that ended with Timberlake touching Jackson's shirt, revealing the singer was wearing a nipple shield. The public outcry was totally immediate. Families felt the incident was completely inappropriate for national television. Of course, it does not go unnoticed that Jackson is still paying for the incident and Timberlake is being welcomed back with open arms.
In 2004, Timberlake issued an apology saying,
I am sorry if anyone was offended by the wardrobe malfunction during the halftime performance at the Super Bowl. It was not intentional and is regrettable.
He also noted the disproportionate backlash against himself and Jackson. During an interview with MTV, he said,
It's an understatement to say that it was sort of unfair. If you consider it 50/50, I probably got 10 percent of the blame. And I think that says something about society. I think that America's harsher on women and I think that America's unfairly harsh on ethnic people.
Hm, agreed.
It will be fascinating to watch the similarities and differences in Timberlake's halftime performances with 14 years between them. Of course, fans are also crossing all of their fingers and toes for an NSYNC reunion, but there are no promises.
At the end of the day, all we can really do is watch and wait for whatever (dance) move JT pulls next.
Check out the entire Gen Why series and other videos on Facebook and the Bustle app across Apple TV, Roku, and Amazon Fire TV.