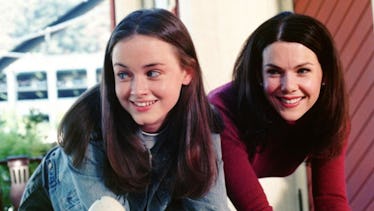 20 'Gilmore Girls' Behind-The-Scenes Facts That'll Make You Say "Oy"
The CW
The Girlmore Girls fandom goes hard. From attempting to emulate the characters' fast-talking ways of Lorelai and Rory to being proud of drinking potentially unhealthy amounts of coffee, people who love the show really, well, love it. It's not hard to see why; the classic series has everything you could want from your marathon-viewing experience: romance, laugh-out-loud jokes, and endless pop culture references. But even the most avid viewers may not know it also has a fascinating filming history, as these Gilmore Girls behind-the-scenes facts prove.
Gilmore Girls aired from 2000 to 2007, but it continues to live on in streaming on Netflix. Plus, fans were treated to the revival series Gilmore Girls: A Year in the Life in 2016, so they've never really had to be without the Gilmores for too long. The delightful show follows the lives of mother and daughter Lorelai (Lauren Graham) and Rory Gilmore (Alexis Bledel), and the quirky cast of characters they interact with in and around their small town of Stars Hollow. But while the on-screen adventures and heartwarming moments of the mother-daughter duo provide plenty of entertainment on their own, there's a whole other, behind-the-scenes side of the series for fans to fall in love with.