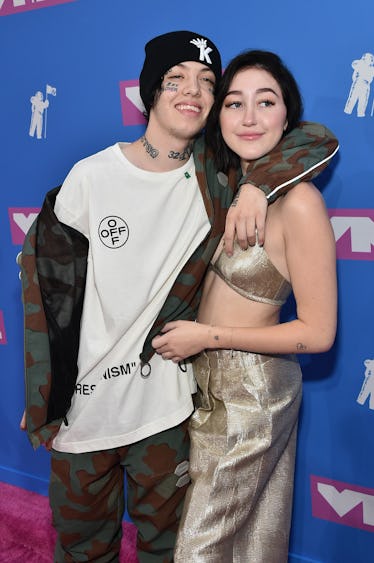 6 Celebs Who Went IN On Their Exes On Social Media
Mike Coppola/Getty Images Entertainment/Getty Images
Love is complicated, guys. Sometimes, it's like you're minding your own business, being famous and dating another celebrity, when the next thing you know you're typing out angry tweets in all caps for the whole world to see. Sh*t happens, ya know? When you're a famous person, dating is complicated in special and unique ways. To begin with, you have different pressures on you as a public figure. Secondly, you probably have a lot more followers than the average person. This means, if you use social media to troll your ex, the world is going to see it. Such is the case with these celebrities who called out their exes on social media after breaking up.
I imagine that whatever leads a celebrity to post something scathing about their ex has to be really, REALLY bad. Otherwise, you would think the prying press and the public's eyes following their every move (especially their breakups and makeups) would encourage a person to NOT do anything stupid. However, even as you're reading this, I bet you're calling to mind some of your favorite celebrity-ex social media feuds. Actually, they're probably on this list.
Here are six of the biggest celebrity breakups in social media history.
1. Rob Kardashian & Blac Chyna
These two aren't the first famous couple to publicly fight on social media, but they are the reigning King and Queen in my heart. Things between the youngest Kardashian sibling and his ex-fiancée got so, SO bad, Kardashian ended up sharing nude photos of Chyna on his own personal Instagram account. This resulted in her ordering a restraining order against him.
Both parties had some choice words to say to one another throughout their tumultuous relationship. This included things like Kardashian documenting Chyna seemingly leaving their home with their child, Dream, before Christmas and Chyna reportedly taunting Kardashian by sending a video of herself kissing another man.
They used things like money-shaming against each other and seemed totally disconnected from the rest of the world and their fan base (even they were horrified by how far Chyna and Kardashian had taken things).
According to E! News, as of August 2018, Chyna and Kardashian have settled into a "peaceful" co-parenting situation and have equal custody of their daughter.
2. Selena Gomez & Justin Bieber
What's a good listicle about exes without any mention of Jelena? The famous on-again, off-again couple is officially off now that Bieber is engaged to Hailey Baldwin, but that doesn't mean his history isn't fraught with old relationship drama.
In 2016, during one particularly bad "off" bout with Gomez, Bieber began dating Sofia Richie. He was happy to post pictures of Richie on his Instagram account, but found many Jelena fans and trolls were not into his new boo. Unfairly, Bieber and Richie were under attack a lot of the time. In defense, Bieber posted the following message on Instagram:
I'm gonna make my Instagram private if you guys don't stop the hate this is getting out of hand, if you guys are really fans you wouldn't be so mean to people that I like
In a very strange plot twist, Gomez was actually on the trolls' side. She straight up commented: "If you can't handle the hate, stop posting pictures of your girlfriend lol—it should be special between you two only. Don't be mad at your fans. They love you and supported you before anyone ever did."
Like, wut?
Bieber didn't respond to her directly, but he did write, "It's funny to see people that used me for attention and still try to point the finger this way. Sad. All love." He later added, "I'm not one for anyone receiving hate. Hope you all can be kind to my friends and each other. And yes, I love my Beliebers."
Later, Gomez posted a note on her Snapchat saying: "What I said was selfish and pointless."
3. Calvin Harris & Taylor Swift
Man-oh-man. Good ol' Calv and T-Swift.
This relationship sort of seemed like it had sticking power until it, too, went up in 140-character flames. Harris and Swift were together for about 15 months before calling things off. During that time, Harris' track "This Is What You Came For" was topping the music charts. In July 2016, after their breakup, Swift's representatives confirmed rumors she actually co-wrote the song with Harris under a Swedish pseudonym.
He did not really love or appreciate Swift's big reveal.
In a Twitter rant (that has since been deleted) Harris accused Swift of using the songwriting announcement as a means to make him look bad. He also brought up her ongoing feud with frenemy Katy Perry.
Oof. That's a deep cut, Cal.
As part of the rant, he wrote:
I figure if you're happy in your new relationship you should focus on that instead of trying to tear your ex bf down for something to do... I know you're off tour and you need someone new to try and bury like Katy [Perry] ETC but I'm not that guy, sorry. I won't allow it. Please focus on the positive aspects of YOUR life because you've earned a great one.
He later confessed to British GQ the tweets were "completely the wrong instinct," adding, "I was protecting what I see as my one talent in the world being belittled. It felt like things were piling on top of me and that was when I snapped."
4. Jai Brooks & Ariana Grande
From 2012 to 2013, Grande dated Australian musician Jai Brooks until sh*t hit the fan. Brooks accused Grande of cheating on him with Nathan Sykes in a seriously lengthy Twitter message (whom she ended up dating briefly before getting back together with Brooks prior to ending it for good). Both Brooks and Grande went at it on the social media platform after that, with Grande claiming Brooks said if she didn't "go back to him" he'd make her look bad. Hence, the cheating rumor. He responded by sharing a text message he wrote to her gushing all kinds of niceties.
Today, Grande is obviously engaged to comedian Pete Davidson and Jai Brooks is... I don't know... doing something else.
5. Kanye West & Amber Rose
Amber Rose and Kanye West have had a heated relationship ever since their breakup in 2010. In a 2015 interview with The Breakfast Club, West made an infamous comment about how he had to take "30 showers" after dating Rose before he could date Kim Kardashian, who later became his wife. Rose, understandably, didn't love the comment and posted a series of tweets calling West out, signing off with the message, "I'll leave that up to the Kartrashians to humiliate u when they're done with u."
Years later, West got into it with Rose's new boo, Wiz Khalifa, when he knocked West for changing his album title from SWISH to Waves (though he ultimately landed on The Life Of Pablo). Rose got involved again then, too, and posted a rather NSFW tweet regarding her intimate life with West back in the day.
Fans know West has gone on and off of Twitter for multiple reasons since then, deleting many tweets from his previous argument with Rose. Today, the two have seemingly buried the hatchet and Rose was featured in West's "Famous" music video. Plus, her and Kim Kardashian claim to be friends.
6. Noah Cyrus & Lil Xan
This is a more recent social media feud but worth noting nonetheless. Miley Cyrus' little sister Noah Cyrus jumped into a fast and furious relationship with rapper Lil Xan at the end of summer 2018. Just as soon as they released a collaboration hit called "Live or Die," their relationship came to a sudden halt when Xan accused Cyrus of cheating on him.
Xan jumped on Facebook Live to talk about how the music video for "Live or Die" was no longer going to air thanks to their breakup. He explained,
The 'Live or Die' video is not gonna be coming out at this point, because I've been informed, like, you know when you, like, like a girl and sh*t and whatnot? But I've just been informed that basically it was all fake, and I'm being used. So f*ck it. I guess I was just being used. I thought, you know, I was in love, but whatever. I'll take that L. Heartbreak soldier. Thanks, Noah. Hope the song does well, if Columbia puts it out. Love all my fans, though.
Cyrus shared her own tearful videos claiming "things suck," but never mentioned the cheating allegations. Later, she shared a meme that is apparently the smoking gun in this saga. According to Cyrus, she sent Lil Xan a picture of Charlie Puth's head photoshopped on a naked body, which made him believe she was cheating on him.
But, after Cyrus had had enough of all the assumptions fans were making based on Lil Xan's posts, she revealed her belief that Lil Xan was the one who was cheating, writing on her Instagram story:
Cheaters like to accuse their partners of cheating to make themselves feel less guilt. This isn't the first time this has happened to me and now I'm being forced to deal with crazy accusations when I'm not even sure where all this came from.
Mere days after their breakup, Cyrus dropped a new love ballad called "Mad At You" that has fans speculating. Some think her split to Lil Xan was actually PR for the clear breakup song.
No way around it, breakups are messy. Of course, they're going to be particularly messy when you're a celebrity. The lesson here is, famous people, ask someone on your team to take your tech devices from you if you're going through a breakup. I guess, unless you're using it for PR purposes. Then, ya know, do whatever your manager tells you.