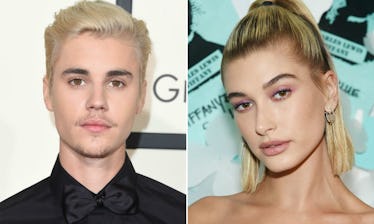 Justin Bieber & Hailey Baldwin Are Reportedly Engaged & OMG
JASON MERRITT/GETTY IMAGES ENTERTAINMENT/GETTY IMAGES; JAMIE MCCARTHY/GETTY IMAGES ENTERTAINMENT/GETTY IMAGES
Justin Bieber and Hailey Baldwin seem to have finally made their on-again relationship official. According to reports from TMZ, Justin Bieber and Hailey Baldwin are engaged. Bieber reportedly popped the question on Saturday night, and Baldwin reportedly accepted his proposal.
Elite Daily reached out to Justin Bieber and Hailey Baldwin's representatives for comments on the reported engagement, but didn't hear back at the time of publication. The proposal reportedly happened on Saturday, July 7, while Bieber and Baldwin were vacationing together at a resort in the Bahamas, according to eyewitnesses who spoke to TMZ and who claim to have seen the romantic scene play out. Right before Bieber asked Baldwin to marry him, the eyewitnesses reported to the media outlet that Bieber's security detail asked everyone to put their phones away.
Bieber then reportedly proposed to Baldwin in front of everybody at the resort. There aren't any reports of Baldwin's reaction or response, but the engagement is reportedly on. There is also an possible confirmation of the good news on Bieber's dad's official Instagram account. Jeremy Bieber posted a picture of his son on Sunday, July 8, with the caption: "@justinbieber Proud is an understatement! Excited for the next chapter!"
Presumably, that "next chapter" is Bieber starting is life engaged to be married to Baldwin.
Beyond the semi-cryptic confirmation of the surprising engagement from Bieber's dad, there is no word yet from Bieber or Baldwin themselves. I can't really blame these two for being quiet about the matter, because they might simply be trying to catch up with their whirlwind romance. Bieber and Baldwin only began dating again this past June, when they were spotted together in Miami.
The pair had previously dated briefly in 2014, but then quickly went back to being "just friends." Fast forward to July 7, 2018, and it appears that they have upgraded their friendship to an engagement.
Fans have been waiting for confirmation that the singer and model are fully back together, and Bieber gave everyone a tease in his June 17 Instagram post that seems to show Baldwin standing next to him. The photo only shows Baldwin from the waist down, and Bieber slyly posted it sans caption.
Bieber wasn't always so coy about the pair's relationship. In January 2016, the singer posted a slightly steamy pic on Instagram of him and Baldwin sitting quite close, and they both appear to really enjoy each other's company.
While fans might be excited about the couple's reported engagement, there is also likely a contingent of Beliebers who are bummed that this likely means there is no chance of Bieber ever reuniting with his ex-girlfriend, Selena Gomez. The former couple first got together way back in 2011, and then after a string of on-again, off-again moments, they officially broke it off for good in March 2018.
Baldwin was also reportedly in a relationship before getting back together with Bieber in June. She attended the 2018 Met Gala with Shawn Mendes in May, and people were officially convinced that they were an item. Baldwin and Mendes never confirmed their relationship, and then it was reportedly over once Baldwin erased all the pictures of Mendes from her Instagram account in late June.
With Bieber and Baldwin both officially on the market, they apparently found their way back to each other in June 2018, and now they are reportedly in it for the long haul. So, while fans might be sad that Jelena is officially done for good, they're hopping on the "Jailey" train to congratulate Bieber and Baldwin on their recent engagement.