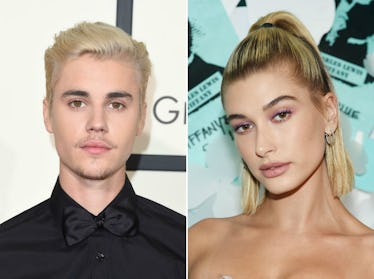 Fans Think Hailey Baldwin & Justin Bieber Are Dating Again & The Reason Why Is Convincing
Jason Merritt/Getty Images Entertainment/Getty Images; Jamie McCarthy/Getty Images Entertainment/Getty Images
The Hollywood dating scene is confusing. One day so-and-so is dating one person, and the next they're dating someone else entirely. And that's exactly what's happening with Hailey Baldwin right now. Just a few weeks ago, around the time of the 2018 Met Gala, Baldwin was romantically linked to singer Shawn Mendes. But this past Sunday, June 10, Baldwin was seen out and about with her ex-boyfriend Justin Bieber. So, now things are really confusing. Are Justin Bieber and Hailey Baldwin dating again? If not, they're giving fans a good run for their money.
According to a new report from People magazine, Baldwin, 21, and Bieber, 24, were seen attending a church conference together in Miami. Afterward, they headed to LIV nightclub for a night of fun.
People also reported that Baldwin and Bieber were also spotted in Miami on Monday, June 11. Apparently, they were seen drying each other off after taking a swim.
While of all that may seem like a prelude to romance, Baldwin and Bieber aren't actually an item. Well, not anymore. So, these new joint outings are a bit of a surprise to a lot of people.
Baldwin and Bieber began dating casually in 2014, but the couple quickly realized that they were much better as friends. At least, according to Baldwin.
In a recent interview with The Times, Baldwin explained where she and Bieber are in terms of their relationship:
I'd never been through a high-profile relationship like that. But it brought both of us to the realisation that we just work much better as friends. He's somebody I really cherish. Now it's a very mature situation. It's good.
So, essentially, the two are just good friends at this point, even if it seems like they're getting cozy once again.
Baldwin has also gone on record to say that she and Bieber are not at all dwelling on their past romance.
Justin and I were friends for a long time. I met him when I was really young and he was one of my best friends. Everybody knows that at a certain point in time that turned into something else, but that just happens when you're 18, 19. It was what it was.
In the interview, she also spoke briefly about her friendship with Shawn Mendes. Baldwin also added that she's still single and not exactly finding the right material a whirlwind romance.
We hang out and he's super-lovely and a very, very nice young gentleman. But I am single … The dating pool is small. It's rare to find somebody that has the same ideas and morals as me. I have found people like that before, though, which is refreshing.
And that's totally understandable. She's taking her time to find the right person and she knows what she wants.
All that said, though, I guess that means Baldwin and Mendes aren't dating, which seems strange given how much their fans are invested in their relationship.
As previously mentioned, Baldwin has most recently been linked to the singer. Rumors about a potential relationship between the two of intensified when they attended the 2018 Met Gala together.
In a recent interview with E! News, Mendes set the record straight:
I am single. The Met Ball was such an incredible experience for me. It was just overwhelming in the most incredible way. I was so lucky for my first time going there to be able to go with someone like Hailey because she's such a vet and I really admire people like her because of how outgoing she is in such an overwhelming experience.
So, that's that. Baldwin is just friends with these guys! Which is totally fine! She'll find the right guy for her eventually. And hopefully, Bieber and Mendes will find their matches, too.