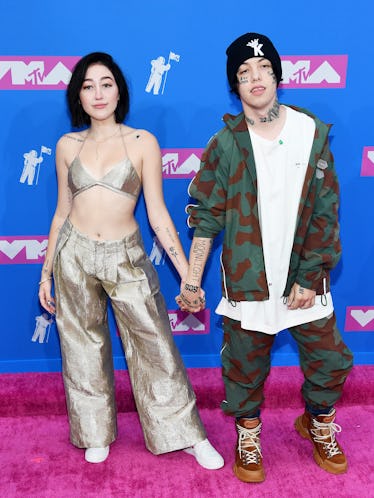 Noah Cyrus & Lil Xan's "Live Or Die" Lyrics Are Pretty Heartbreaking Now That They're Over
Nicholas Hunt/Getty Images Entertainment/Getty Images
Now that Noah Cyrus and Lil Xan's whirlwind romance has run its course, we're left with nothing to show for it (other than a weird meme of a naked body with Charlie Puth's head photoshopped onto it). Though their relationship was pretty new, taking to social media with some hot and heavy photos together back in July, we've recently watched these two deteriorate into nothing more than cheating allegations and heartache. But we do have one thing — the music that the two made together when they were still together. And Noah Cyrus and Lil Xan's "Live Or Die" lyrics are actually pretty heartbreaking now that these two have called it quits.
I'll try to give you an edited version of their breakup, but things might get a little dicey, so try to bare with. On Sept. 3, Lil Xan took to his Instagram Story to tell his fans that he was unsure of Cyrus' faithfulness. "I feel like I'm probably being cheated on," he wrote in one of his Stories, which was screenshotted by Hot New Hip Hop.
On his Instagram Live, he told fans that the video for the song they collaborated on together named "Live or Die" would no longer be coming out. He told fans:
The 'Live or Die' video is not gonna be coming out at this point, because I've been informed, like, you know when you, like, like a girl and sh*t and whatnot? But I've just been informed that basically it was all fake, and I'm being used ... Thanks, Noah. Hope the song does well, if Columbia puts it out.
Eesh.
Then, in a now-deleted Instagram Story from Cyrus, she revealed that the two called it quits after she reportedly texted Lil Xan a photo of singer Charlie Puth's head photoshopped onto a naked body — which led Lil Xan to believe that Cyrus was cheating on him. Elite Daily reached out to both Cyrus' and Lil Xan's teams for comment but has not heard back at the time of publication.
Cyrus then turned the tables around, accusing Lil Xan of cheating on her, sharing a photo of Lil Xan on her Instagram Story with what is reportedly a hickey on his neck, and dated the photo Sept. 1. Elite Daily has reached out to Lil Xan's team for comment on the breakup, as well as Cyrus' cheating allegations, but has not heard back at the time of publication.
She responded to the cheating allegations, telling fans that Lil Xan was unfaithful to her, not the other way around. She wrote:
Cheaters like to accuse their partners of cheating to make themselves feel less guilt. This isn't the first time this has happened to me and now I'm being forced to deal with crazy accusations when I'm not even sure where all this came from.
Now that we're all squared away with THAT mess, let's get onto why the lyrics to their song are actually haunting.
The song "Live Or Die" starts out with Cyrus singing,
On our way to the sky, We're gonna look down on tonight, When we die, you and I, Two heartbreak soldiers, When you lay by my side, I see the whole world through your eyes, Ride or die, you and I, Live or die, yah, Live or die, Got you and I, Got you tonight, yah, Live or die, yah, Live or die, Got you and I, Got you tonight
Then Lil Xan comes in, rapping,
Have you ever seen a red flower? Yeah, Have you ever seen a gold flower? Aye, Came from a broken home, parents never saw it, Now I'm living all alone, taking care of us all, yeah, Flashes in my face, I guess that's what you get with all this fame, Just because it's that you gang does not mean that you really gang, Weather changes with my mood, it never really stays the same, And one plus one is two, and without you I think I'd go insane, And what you think? Pause, let it sink in, They threw me in and now I'm drowning in the deep end, If I'm religious, you're the one that I believe in, You've been here with me to help me fight all my demons
The chorus repeats again, then the pair sing together,
To live or die, what's the price on a life? If there ain't no price tag, I might take it right, If I hit it from the back, I might just hit it twice, Rest in peace to everyone that we lost in life, And I just wanna run away-ay-ay, I just wanna run away-ay-ay, I just wanna run away-ay-ay, yeah-eah-eah-eah-ay (With you, baby)
THE EMO KID IN ME IS SOBBING SO HARD, GUYS.
But in all seriousness, this song is actually really sad now that Noah and Lil Xan are no longer dating. Pretty sad that we won't be hearing music featuring the two of them together anymore, but I'm totally appreciative of at least getting the parting gift that is this song.
And who knows, maybe these two will sort out their Charlie Puth-centered differences and kiss and make up.