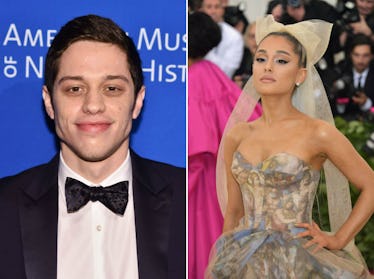 Ariana Grande & Pete Davidson Are Reportedly Engaged & No, I'm Not Kidding
Michael Loccisano/Getty Images Entertainment/Getty Images | Neilson Barnard/Getty Images Entertainment/Getty Images
It's no secret that Ariana Grande and Pete Davidson are dating. Over the past few weeks, they've shown the world just how much they genuinely enjoy each other's company. From Harry Potter-inspired Instagram posts to matching tattoos, Grande and Davidson are making sure everyone knows what they mean to each other. And now they've taken the next step in their relationship. Or so it seems. Ariana Grande and Pete Davidson are reportedly engaged ...at least according to sources who spoke to Us Weekly!
Elite Daily reached out to both Grande and Davidson's teams for comment, but have not heard back at the time of publication.
According to a new report from Us Weekly, Grande and Davidson "were telling people that they're engaged" while enjoying Robert Pattinson's birthday party in Los Angeles this past Saturday, June 9.
So, they're reportedly engaged. As in, they could get married. After just a few short weeks of dating.
That's wild, right? Of course it is! But love is love, no matter how long it's been in progress, and Us Weekly's insider sources are certain everything will work out just fine.
"They are a perfect fit. They are not rushing to get married," an insider said. "Their friends are really excited and supportive."
Well, it's great to hear that the people who love them are supportive of their relationship. That's such an important thing. Us Weekly's source also explained that Grande and Davidson share more than just love; they also share humor. Plus, their moms have already met!
They are both constantly making each other laugh. Their moms have met. They've been very public with their relationship on social media, and they are very in love.
Whoa! Things are definitely moving fast for Grande and Davidson. But not so fast that they're getting married right away.
A third Us Weekly source said that the two young stars are expecting to be engaged for a long while:
They are looking forward to a very long engagement together.
So, what exactly is a long engagement? Months? Years? Only time will tell! Nonetheless, fans are wishing them nothing but the best!
Actually, all this engagement talk comes amid fan speculation that Grande was spotted wearing a ring. In her Instagram story, Grande shared a photo of herself alongside her mom and brother. In the photo, fans believe they can spot a ring.
Here's the photo:
Can you see a ring there? I'm not so sure, but either way, Grande fans are excited to see their queen happy and in love. Can't blame them! She deserves it. She and Davidson both do!
Grande, 25, and Davidson, 24, began dating in early May 2018. The first news of their relationship broke via E! News on Monday, May 21. At the time, an inside source told E! that Grande and Davidson were only casually dating.
"It just started and is casual," the source told E! News for their initial report.
The couple confirmed their relationship just nine days later, on May 30, with a Harry Potter themed Instagram post:
Then, in early June 2018, Grande posted this photo of Davidson giving her a smooch:
Her caption for the photo spoke to the depth of her appreciation for him:
i thought u into my life 💭 woah ! look at my mind 💡⚡️🙈
Obviously, the relationship has taken a pretty drastic turn in a very short time. It's only been three weeks since the world learned they were dating in the first place! So, clearly, they're moving fast. Maybe they just don't want to lose sight of each other in a world as chaotic as Hollywood.
Whatever works for them, I guess!