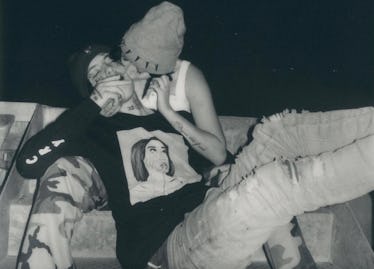 Noah Cyrus & Lil Xan's New Song Shows Off Their Amazing Chemistry
Columbia Records
I've been so busy paying attention to the Miley Cyrus/Liam Hemsworth romance-saga of the 21st century, I've failed to even notice what's going on with her little sis, Noah! My mistake, because there's been a lot up with this one. Noah Cyrus recently debuted a new song titled "Live Or Die" with her boyfriend, Lil Xan, and I clearly see now that I've been missing out on something. These two are glued at the Instagram hip. Noah Cyrus and Lil Xan's "Live Or Die" lyrics demonstrate just how strong their chemistry really is, pushing their relationship to the top of my newsfeed and the forefront of my interest.
According to Cyrus and her Instagram story, she claims she and Xan wrote and released the song in just a week and a half. She added, "let's blow this shit up." The song is a cool techno melodic romp through... well, I'm not really sure what. I guess whatever being eighteen, famous, and in love represents to these two. Technically, Lil Xan is 21 years old, but Cyrus recently mused on how even as a new adult, she feels like life is going so fast. She posted, "all the time in the world isnt enough cause im so blessed for my life and the people i have in it." That list of people definitely includes Lil Xan.
Cyrus first teased "Live Or Die" on Aug. 10 when she shared a picture of Lil Xan kissing her cheek. She captioned the photo, "i cant wait for them to hear what we've made."
On Aug. 23, she posted a video of herself singing the song, teasing she was planning on dropping it at midnight.
Low and behold. It's here.
Get a load of some of these lyrics:
Pre-Chorus - Noah: On our way to the sky / We're gonna look down on tonight / When we die, you and I / Two heartbreak soldiers / When you lay by my side / I see the whole world through your eyes / Ride or die, you and I
Second Half of First Verse - Lil Xan: Weather changes with my mood, it never really stays the same / And one plus one is two, and without you I think I'd go insane / And what you think? Pause, let it sink in / They threw me in and now I'm drowning in the deep end / If I'm religious, you're the one that I believe in / You've been here with me to help me fight all my demons
Kinda heavy, right?!
Right now, there's only an audio video out there, but I can imagine how moody the real music video might be if they make one. Admittedly, I don't know that much about Lil Xan except that he has 4.5 million Instagram followers and only seven pictures. (Three of which are featuring Noah.) Based on what they're putting out there, both music-wise and photos-wise, they seem like a match made in beanie-hat-wearing heaven.
God bless them.