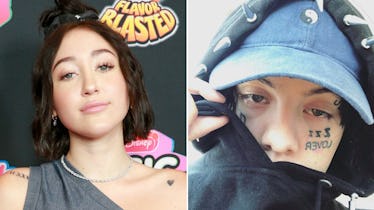 Miley Cyrus' Little Sister Noah Is Dating A Controversial Rapper & Their Photos Are Steamy
Rich Fury/Getty Images Entertainment/Getty Images/Instagram
We're all well aware by now that Miley Cyrus is an actual queen, yes? Yes. But did you know that her sister Noah Cyrus is following down her sister Miley's path as an actress and singer? (Is there something in the water at the Cyrus household that I could maybe get my hands on? Asking for a friend.) And as we all know, Miley is no stranger to making some ~controversial~ headlines, and apparently, Noah's new boyfriend, rapper Lil Xan, isn't either. So, who is Lil Xan? Let's sit down and have a chat.
According to E! News, 18-year-old Cyrus and 21-year-old Lil Xan (whose real name is actually Diego Leanos) are officially dating. He's most notably known for his breakout hit, "Betrayed," released back in 2017, and has been open about how exactly he got his stage name, admitting that he was once addicted to Xanax.
In October of 2017, he told Genius, "I was painfully addicted to Xans for, like, two years of my life. Anyone trying to tell me I'm a poser can shut the f*ck up. I know what it's like to be addicted to that. I was lucky enough to get off that sh*t."
Lil Xan recently faced a ton of backlash after, in an interview with Revolt, he rated Tupac's music a 2 out of 9, stating that he made "boring music." Many rappers disapproved of Lil Xan's comment, and Waka Flocka even took to Twitter to voice his thoughts about the young rapper:
He also explained what an impact Tupac made on his childhood, and considered Lil Xan's comments disrespectful. He wrote,
Pac help me get thru childhood!!! Sh*t hurt to see the youth disrespect man that paved the way for all of us literally... I hope nobody overlook me accomplishments when I leave
I told you he was controversial, didn't I? He's not licking a hammer or anything — but controversial nonetheless.
But perhaps his dissing days are over, because he's found love in Noah Cyrus, and the couple making sure everyone knows it on social media.
On Monday, July 30, Noah posted a picture of herself on Instagram with Lil Xan, who's seen giving her a kiss on the cheek and gripping her backside. She wrote,
ok fr. look at this lil nuggetttt!!! 😍😍😍 also we both so sad its so sweet 💔💔💔💔
Even though Cyrus claims they're both "so sad," Lil Xan is probably *very* happy in this photo considering the hand placement, TBH.
Lil Xan uploaded the same photo to his Instagram, cropping it and captioning it, "Baby Blue Subaru 😍", which I'm guessing is an inside joke between them (???).
Amping up the PDA a notch, Lil Xan posted another photo with Cyrus on Instagram, showing fans a closeup photo of the couple touching tongues. "I like her," the caption reads:
It's a little bit too much PDA for me, but apparently not Diplo, who commented on Cyrus' post, saying that he would like to "DJ the wedding."
Hey, whatever floats your boat, people. Cheers to the new couple!