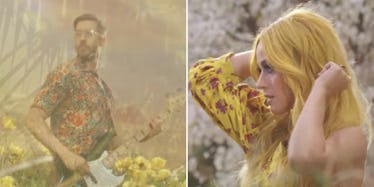 Sorry Taylor Swift, Calvin Harris' Music Video For "Feels" With Katy Perry Is Here
YouTube
Calvin Harris just released the music video for his new song "Feels" with Katy Perry and Pharrell Williams, and to be the most honest with you, it's a damn delight.
I've been low-key following Harris since his breakup with Taylor Swift in the summer of 2016, and while his Instagram is all, "Party over here!" his personal life is a lot less public.
Now, Harris is back and he's wearing a Hawaiian shirt, round sunglasses, and rocking a guitar amongst some tall grass, and I am digging it.
And did I mention the song is also a collaboration with T-Swift's infamous frenemy, Katy Perry? CAUSE IT IS. Cue the dramaaaaa.
Check out the groovy music video for yourself.
The video's visuals remind me of the kid's show The Wild Thornberrys, like in a good way, and features a seriously smoking Katy Perry and an equally seriously cool, Pharrell. And yeah, Big Sean is there, too. What's up, Big Sean?
Sure, if you're into celebrity relationship conspiracy theories, some of the lyrics could definitely be... almost maybe... certainly possibly... about Swift, as Big Sean raps:
G*ddamn, I know you love to make an entrance Do you like getting paid or getting paid attention? You mixed the wrong guys with the right intentions In the same bed, but it still feel long distance She's looking for a little more consistency But when you stop looking you gon' find what's meant to be And honestly, I'm way too done with the hoes I cut off all my exes for your x and o's
Hm, hm, hm.
More than anything, we're wondering how Swift feels about her ex-lover and feuding friend working together.
For her part, Perry has recently expressed how she is ready to let things go with Taylor Swift.
During her Witness 72-hour live stream, Perry told Ariana Huffington, "I forgive [Swift], and I'm sorry for anything I ever did, and I hope the same from her, and I think it's actually… I think it's time."
You know how the old saying goes... if you want to make things right with a friend, make a music video with their ex. Right?