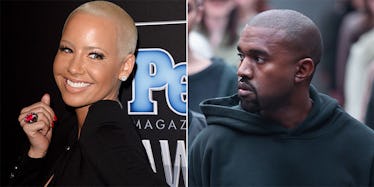 Amber Rose Is Now Shaming Kanye West For Apparently Liking Butt Stuff
Getty Images
WHAT THE HECK IS GOING ON?!
If you've been on Twitter lately, I'm sure you've been a witness to the sh*t going down.
It looks like Wiz Khalifa and Kanye West have some serious bad blood.
Wiz Khalifa went to Twitter earlier to make some comments about Kanye's new album, WAVES, coming out on February 11.
He wasn't too happy Kanye changed his title from SWISH to WAVES, so he expressed his opinion on social media.
ANYWAY, Kanye was having none of Wiz's sh*t.
He went on the MOST INSANE KANYE WEST TWITTER RANT IN THE HISTORY OF KANYE RANTS. It was a roller coaster of emotions, let me tell you.
He actually deleted most of his tweets, but have no fear, we got you covered.
Well, guys, it looks like things just got even more intense.
Amber Rose just voiced her opinion on the matter and tweeted this lovely message to Kanye.
UM, WHAT? DID AMBER JUST SHAME KANYE FOR LOVING BUTT STUFF?! I will never get that hashtag out of my mind. OMG.
I guess we'll see if any more tweets come Kanye's way. Will Kim have something to say? I HAVE NO CLUE. I guess we'll find out.
In the end, Kanye explains his message was simple. It's all about positive energy, people. Never forget.