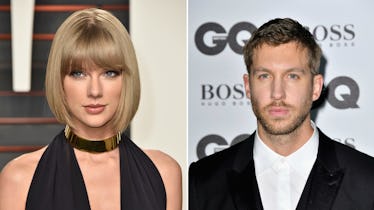 The Stories Behind 6 Brutal Celebrity Breakups That Will Break Your Heart All Over Again
Pascal Le Segretain/Gareth Cattermole/Getty Images Entertainment/Getty Images
Celebrities don't have it easy. Yes, there are definitely some perks to the job (like having a savings account with more than a hundred dollars in it), but you have to admit that living in the public eye can't be fun when you're going through a difficult time in your life. It must be especially challenging when you're going through a breakup: It's awful enough going through one of those as an average person, but when you're a celebrity, the entire world knows all the drama between you and your former S.O. And as an average, non-famous human, I can vouch that we've seen our fair share of some of the worst celebrity breakups throughout the years.
So, what qualifies as a brutal celebrity breakup? It's the cheating rumors. It's the "he said, she said," of why the relationship ended. And sometimes, the breakup is amicable and loving, but it's brutal for the people who absolutely adored the celebrity relationship (i.e. us common folk).
Let's take a look at some of the most brutal breakups we've seen from our favorite celebs. It's going to be hard, but we're going to get through this together, OK? OK.
1. Anna Faris and Chris Pratt
You guys, I am so, so sorry for putting our sweet baby angels at the top of this list, but I figured it would be like a band-aid. Just rip it off quickly, and move on before we start to actually sob. When Anna Faris and Chris Pratt announced their separation back in August of 2017, the world basically decided that love does not exist anymore. Things have not changed that much, and the world is still reeling from this devastating breakup.
2. Taylor Swift and Calvin Harris
These two seemed like a match made in musical heaven. But it clearly wasn't meant to be, and the couple broke up in July of 2016. Instead of simply going their separate ways, though, each of them made music that fans thought were written about the other person. While obviously neither Swift nor Harris confirmed those rumors, Harris did throw shade at Swift on social media after Swift called out Harris for not crediting her on the song, "This Is What You Came For," tweeting, "I figure if you're happy in your new relationship you should focus on that instead of trying to tear your ex-BF down for something to do." While he did apologize for his tweet, the internet can forgive, but it literally cannot forget.
3. Katy Perry and Russell Brand
If you didn't remember this brutal breakup, let me refresh your memory: Katy Perry and Russell Brand started dating back in 2009, and got engaged that same year. But in 2011, the couple called it quits after Brand texted Perry asking for a divorce on New Year's Eve. YUP. Imagine how bold you have to be? This breakup is particularly brutal because WHO REQUESTS A DIVORCE VIA TEXT? No. Just, no.
4. Naya Rivera and Big Sean
Naya Rivera and Big Sean were engaged back in 2013, but sadly, broke things off in April of 2014. And, in Rivera's memoir, Sorry Not Sorry, Rivera revealed that Sean was reportedly seeing Ariana Grande during the time the two were engaged. That's bad, but it gets worse. Rivera also reveals that Sean's publicist made the announcement of the separation, when she had no clue that her relationship had ended. While Rivera is now happily married to Ryan Dorsey, her past relationship split was a pretty intense one.
5. Diane Kruger and Joshua Jackson
This split absolutely broke me. For a couple to date for a decade in Hollywood is like a regular couple dating for half a century: It RARELY happens, people.
So when Diane Kruger and Joshua Jackson announced their breakup in 2016, it was pretty devastating (for me, and also probably for them). When it was revealed that Jackson didn't exactly believe in the idea of marriage and had no intention of committing himself further to Kruger, it sort of made sense as to why they called it quits. Still sad AF, though.
6. Jennifer Aniston and Brad Pitt
You couldn't possibly think we wouldn't include Jen and Brad on this list. It was the breakup heard around the world: Aniston and Pitt were married from 2000 to 2005, and when the pair divorced, it was rumored that the reason was because Pitt fell in love with Angelina Jolie while filming Mr. & Mrs. Smith together. Which, dare I say, was probably not a far cry from the truth, considering Brad and Angelina were together for 12 years, marrying in 2014, but ultimately filing for divorce in 2016. We all of course know that Jen moved on too, marrying Justin Theroux but announcing their split in February of 2018 (moment of silence, please).
While everyone is hoping for a Brad and Jen reunion, I just can't see two people who went through a breakup that brutal ever getting back together.
Also, Jen deserves better.
The end.