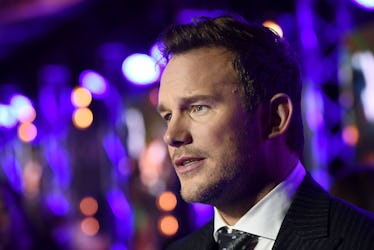 Chris Pratt Fans Have One Question After His Divorce From Anna Faris
Ian Gavan/Getty Images Entertainment/Getty Images
Is there anyone cuter than Hollywood beefcake Chris Pratt? The answer is a definitive no, because hello, have you seen his face? And not only is he handsome, the man is also funny as all hell (and if you didn't know that, one quick glance at his Twitter page will make you a believer). And, after the devastating news that he and Anna Faris were separating, the world needed a moment to process the news. It was like Brad and Jennifer divorcing, only somehow worse – two people you thought would be destined together were consciously uncoupling, and honestly, it was a lot. But now that some time has passed, and the world has had time to grieve properly, people have a new look on things. And that look is pure, unadulterated lust for Chris Pratt. So, is Chris Pratt single? Do women around the world have an equal chance with the Guardians of the Galaxy star?
Look, I'm not saying that you can score a date with him, but maybe I'm not saying you can't, either.
Pratt has remained pretty quiet about his personal life since his split with Faris, even taking a break from social media, to which fans everywhere responded with what was basically an existential crisis. Before his brief pause, though, both he and Faris issued a statement regarding their separation. It read:
Anna and I are sad to announce we are legally separating. We tried hard for a long time, and we're really disappointed. Our son has two parents who love him very much and for his sake we want to keep this situation as private as possible moving forward. We still have love for each other, will always cherish our time together and continue to have the deepest respect for one another.
Honestly, there are not enough tissues in the world to stop my tears from falling when I read that. The reaction from fans around the world was a resounding "NOOOOO!":
It took some people a very (VERY) long time to get over it, and with good reason because it seemed that Pratt and Faris were the ultimate #relationshipgoals. Sigh.
But in October of 2017, Pratt returned once more to the Twitterverse, posting an adorable photo of him with his son, Jack, looking ready to once more make us laugh and simultaneously melt our ovaries:
And just like that, Chris Pratt was seemingly back on the market. Because his split with Faris seemed amicable to the public, it made people want Pratt to find love even more with a celebrity (or, if we're all being honest, with our own damn self):
So, is Chris Pratt single? Will he be flying solo at this year's Golden Globes? Or should we be expecting to have our hopes shattered by Pratt having a lady on his arm?
Pratt has been radio silent when it comes to his dating life, so there has been no evidence that he's seeing anyone in particular. To be fair, he did spend eight years with Anna Faris, so taking some time to himself is probably in his best interest – but inquiring minds still need to know. Luckily, we may get our answer on Jan. 7, when we see if he shows up to the Golden Globes with a date.
In the past, Pratt was seen with Faris at the Golden Globes, looking adorable and happy together:
But now that the pair has split, it really makes us wonder who he'll bring – and, for that matter, who Anna will bring if she attends this year. Will there be an awkward hug between the two? Will they introduce each other to their respective dates? Will they just say "screw it" and ditch their dates, reverse their divorce, and live happily ever after?
One can hope.
But if not, there's still that chance that Chris Pratt will date someone seemingly average, someone like, oh, I don't know, me?
What? A girl can dream.