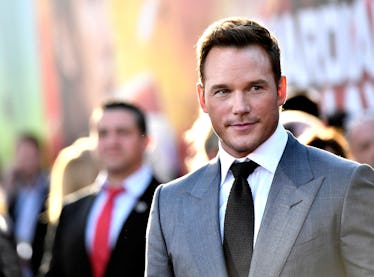 Chris Pratt Returns To Instagram Following Anna Faris Split & Fans Missed Him So Much
Frazer Harrison/Getty Images Entertainment/Getty Images
Chris Pratt and Anna Faris broke hearts everywhere when they announced they were legally separating. Fans mourned the end of a wholesome, down-to-earth couple and certainly didn't handle the news well. Now, Chris Pratt's first Instagram since splitting from Anna Faris surfaced, and everyone's celebrating the actor's return to social media.
As per usual, Pratt kept his post sweet, funny, and focused on the important things in life. "HOLY CRAP!! THOR RAGNAROK IS ABSOLUTELY AMAZING!!! We just laughed our asses off!!! So proud to be part of the Marvel universe," the star wrote while flexing his muscles alongside a buddy and his little boy, Jack, whom he shares with Faris. The post is absolutely adorable, and undoubtedly, the 5-year-old steals the show with his cute little pose.
People took the shot as an opportunity to welcome Pratt back to Instagram after such a difficult few months. Responses such as "good to hear from you again!!" "Dude, you rock! Glad to see you and your little guy hanging out!" and "So glad you came back!!" made the rounds in the comment section, of course. Can anyone really resist a cute daddy-son photo like this?
Have a look at Pratt's photo and try your hardest not to swoon (it'll certainly be difficult).
Though the post is sweet, the couple's split has been quite difficult. Since their breakup, a lot has happened, one being the release of Faris' memoir, Unqualified. It turns out, the portion of Unqualified that was dedicated to Pratt had been taken out as a result of the two going their separate ways. However, Pratt definitely still supports Faris, according to his interview with Slate. He said,
When I was asked to write the forward [sic] for Unqualified, Anna's memoir, I immediately said yes without even thinking about it. And boy did a lot happen between then and now. So much. Like… soooo much. Crickets. Stares at phone. Literally googles the word forward. Wow… Okay. So… it's actually spelled FOREWORD. With an O and an E. Who knew? Siri did. Of course. We've been through a lot, she and I.
Even through the difficult times, the former couple is still trying to support each other for one main reason: Jack. Earlier this year, they both posted a statement on social media regarding their separation. It read,
Anna and I are sad to announce we are legally separating. We tried hard for a long time, and we're really disappointed. Our son has two parents who love him very much and for his sake we want to keep this situation as private as possible moving forward. We still have love for each other, will always cherish our time together and continue to have the deepest respect for one another.
This isn't the first time the two commented on their relationship, and in a variety of different scenarios, they always have the kindest words for other another.
"We'll always have each other and be incredible friends," Faris said in October. "There is still so much laughter in our lives together, and he is so proud of me, still. We watched each other grow, and he still cracks me up all the time. And I think I crack him up — unless he's a really good actor and great at faking laughter."
Likewise, Pratt shared that sentiment and referred to Faris as "the person I spent one amazing decade with" and continues to applaud her work. It might be difficult to admit that the two are no longer one, but it's refreshing that they're keeping things amicable.
Check out the entire Gen Why series and other videos on Facebook and the Bustle app across Apple TV, Roku, and Amazon Fire TV.