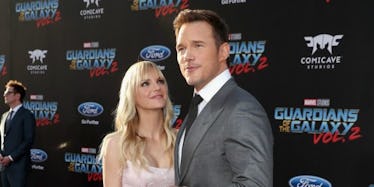 Chris Pratt's Comment About Anna Faris At The Emmys Will Make You Miss Their Love
Getty Images/ Rich Polk
Chris Pratt and Anna Faris were everything to pretty much everyone, once upon a time. That was until they broke all of our hearts and ended their eight-year marriage. It was a tragic day for the world. I'll never forget it, and I will never stop believing in them. Although they didn't appear together at the 2017 Emmy Awards on Sept. 17, 2017, Anna Faris showed up in a stunning gown and owned the red carpet. She's a single woman now, y'all. In fact, this was her first public appearance since the split from Pratt in August of 2017. That's why Chris Pratt's quote about Anna Faris is just too sweet. He loves her. She loves him. End of story. They have to get back together, eventually. It just makes sense. IT'S GOING TO HAPPEN, OK? Whoa. That got out of control fast.
Chris Pratt was spotted by a paparazzo roaming the streets of Hollywood on Sept. 17, 2017, and (of course) he had only nice things to say about Faris. He's such a sweet dude. When asked about Faris at the Emmy Awards, Pratt said,
I know she did great. Anna did an amazing job, man. She rules. Her and Allison [Janney], they both looked great. Go watch [Faris's show] Mom on CBS.
Aww. How can anyone continue to be this charming? It's just not fair.
The comedic actress appeared on the Emmy stage with Mom co-star Allison Janney to present the award for Outstanding Variety Special. The two playfully hugged and shared hilarious one-liners. Janney and Faris have always been close. In fact, during the TV Academy's Performers Peer Group Celebration event in Beverly Hills, E! News talked with Janney about Faris' split. Janney said,
She just is a trooper. She comes to work with a smile on her face … She's a professional. I love her to death.
Janney also remarked,
Her private life she keeps pretty much to herself. She comes to work and gets the job done. She's great … She's got a big smile on her face and she's getting through it. We're all very supportive of her and love her and feel badly for both of them. We love them both … They're such great people.
Aww. She's the sweetest. It's so painful for me to read things like this. Why did they break up? Why?!
Remember when Faris and Pratt posted this statement on Twitter and Facebook to announce their separation?
Anna and I are sad to announce we are legally separating. We tried hard for a long time, and we're really disappointed. Our son has two parents who love him very much and for his sake we want to keep this situation as private as possible moving forward. We still have love for each other, will always cherish our time together and continue to have the deepest respect for one another.
That was a sad day for us all. RIP, Frattis. I just made that up. It's Faris and Pratt mixed. It kind of makes sense, right? I'm going with it.
So, is Faris doing OK since the breakup? Honestly, who really knows? Career-wise, she is doing just fine. Her podcast, Anna Faris is Unqualified continues to air weekly episodes, her television show, Mom, is still trucking along. Also, her new book, Unqualified, comes out in October of 2017. She's a very busy lady.
In an adapted essay from Unqualified that was featured in the October issue of Cosmopolitan, Faris discussed Chris Pratt's friendship and the difference between best friend relationships and marriage relationships. She wrote,
I was once told that I didn't need a tight group of girlfriends because Chris should be my best friend. But I never bought that … The idea of your mate being your best friend — it's overhyped. I really believe that your partner serves one purpose and each friend serves another.
Oh, man. Although Pratt wrote the foreward of her new book, it doesn't look like Pratt and Faris will be getting back together anytime soon. Goodbye, Frattis. Goodbye.
Check out the entire Gen Why series and other videos on Facebook and the Bustle app across Apple TV, Roku, and Amazon Fire TV.