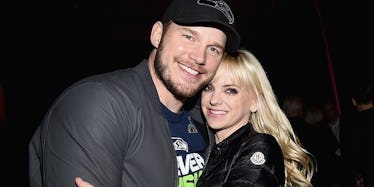 Chris Pratt And Anna Faris Are "Legally Separating," So Love Is Officially Dead
Michael Buckner/Getty Images for Maxim
While you were probably sleeping peacefully in your bed last night, Chris Pratt and Anna Faris announced on social media they are "legally separating." LOVE. IS. DEAD. IT DIED IN OUR SLEEP. CHRIS AND ANNA NEEDED US, AND WE WEREN'T THERE FOR THEM. I will never forgive myself. I'm just going to look back at their years together and sob. That said, how long were Chris Pratt and Anna Faris married?
The pair was married for eight years and have a 4-year-old son, Jack. Elite Daily reached out to both Pratt and Faris' teams for comment, but did not hear back by time of publication. The pair shared the same announcement on their respective social media pages late Sunday, August 6. The statement read,
We are sad to announce we are legally separating. We tried hard for a long time, and we're really disappointed. Our son has two parents who love him very much and for his sake we want to keep this situation as private as possible moving forward. We still have love for each other, will always cherish our time together and continue to have the deepest respect for one another.
The now ex-couple has had some really adorable moments over the last eight years, like when Pratt made Faris a sex mixtape that epically failed, and all of the times Pratt and Faris gushed over each other on social media. God, I'm going to miss these moments so much. I'm not sobbing uncontrollably, you're sobbing uncontrollably!
OK, who are we kidding, we're all sobbing uncontrollably. Anyone want to come over and just, like, hang out and watch sad movies until we don't have any tears left and we've gained five pounds in popcorn and ice cream? Let me know.
Fans have been tweeting their heartbreak ever since the news that Chris Pratt and Anna Faris are splitting up came out.
If you need me, I'll be sitting alone in the dark of my basement, curled up in three blankets, drowning in pillows, and watching What's Your Number? and the episode of Mom that Pratt was in until the pain doesn't hurt as much.
If you didn't know Pratt had a featured role in Faris' What's Your Number? and Mom, ARE YOU EVEN A REAL FAN OF THEIR LOVE?