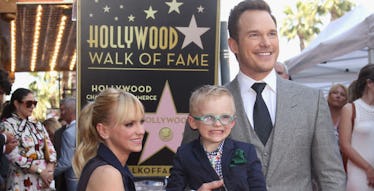 10 Times Chris Pratt, Anna Faris, And Son Jack Proved They're The Cutest Family Ever
Jesse Grant/Getty Images for Disney
Chris Pratt and Anna Faris are one of my favorite couples in Hollywood. Mix in their adorable son, Jack, and they are the definition of family goals. The two were married in 2009 and the love is so real. Pratt and Faris seem to genuinely really, really like each other.
They both encourage each other, gush about their marriage in interviews, and post sweet tributes on social media. Ugh, I love these two. They make me believe in love. Their son, Jack, is four years old, according to Pratt's Instagram, and is as gorgeous as you would expect him to be.
I'll let the pictures do the talking for me. Here are 10 pictures that prove the Pratt-Faris fam is the cutest in Hollywood.
1. Around Hollywood
Jack's glasses are my favorite — so cute. Actually, the best part of this photo is Jack's tennies with his blazer and pocket square — very fetch. The blonde hair says Anna, but that smile is all Chris.
2. In The Great Outdoors
Pratt is a hands-on dad. He and Jack are always out and about doing fun things.
He really understands the importance of being a good role model and spending time with your kids. He posted this sweet tribute to his late father on Twitter. I'm not crying, you are!
3. All Dressed Up
How gorgeous are they? Pratt and Faris shared a quick selfie before the Oscars. Nobody rocks bangs like Anna Faris — NO ONE.
4. Family Love
Faris posted this sweet tribute to her hubs and son. Is this photo candid? There's, like, no way someone just happened to capture this magical moment? TBH, probably.
5. Family Love Part Two
Pratt doesn't miss any chance to brag about his hottie wife. Who could blame him? The pictures are always accompanied by the sweetest captions. The one above is talking about his "dear, sweet, and amazing wife." Swoon.
6. The Little Moments
Jack's angelic face looks like it could do no wrong. However, Faris is a realistic mom and knows he won't stay that way forever. I love how she takes time to appreciate the quiet moments.
7. Humor Is Genetic
The caption of this is hilarious. "I got you a picture of a family, Mom!" says Jack Pratt.
8. Down For A Cause
Pratt and Faris participated in the 22 Pushup Challenge to raise awareness about the alarming number of veterans who take their own lives every day. This cause was obviously important to them. Plus, Faris doing her 22 pushups is so hilarious (she made it to 22!).
9. Major PDA
What guy willingly takes a kissing selfie? Chris Pratt is otherworldly.
10. Career Support
Pratt posts about how talented and amazing Faris is a lot, and she does the same for him. Even Jack is showing major support for his dad.
I hope my hypothetical future hubby (or cardboard cutout that I'll keep for company) is as happy as Anna Farris, Chris Pratt, and Jack. Wishing these three the absolute best.