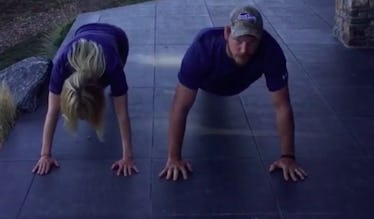 Chris Pratt And Anna Faris Are Straight Up Owning The 22 Pushup Challenge
Instagram
It's like they say, the couple that pumps together... uh, humps... together? Right?
OK, clearly fictitious sayings aside, Chris Pratt and Anna Faris are the ultimate envy of everyone who wants the perfect relationship, but is currently settling for someone they met on Tinder who kind of smells like cheese.
"Chranna," my new celebrity nickname for the pair, do everything together.
And now you can add the 22 Push-Up Challenge to that list of the activities they do in tandem, which already includes making one-way trips to Bone Town, USA and being the perfect parents to an adorable son.
The 22 Pushup Challenge seeks to raise awareness about members of our armed forces who suffer from PTSD and the 22 veterans who take their own lives every day.
Check out the pair spreading the word about this noble cause by getting down with each other (in a very non-sexual way).
What a great reason to get swole, right?
To learn more about the movement that aims to build a community of support between civilians and vets alike, check out the website for the organization 22Kill.
Of course, Chris and Anna join the growing ranks of celebrities who are dropping down and giving 22 for a worthy cause.
Stars like Dwayne Johnson...
...Captain America himself, Chris Evans...
...and John Krasinksi. Behold, no "Office"-style, awkward looks to the camera in this video!
I'm loving all the dogs in some of these challenges, too.
Way to go, Chris and Anna. You continue to inspire us all romantically and morally.
Citations: Watch The Rock, John Krasinski, Chris Evans, and More of Hollywood's Leading Men Crush the 22 Pushup Challenge (Time)