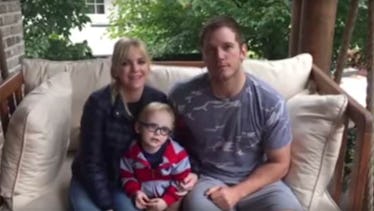 Chris Pratt And Anna Faris' Son Gave A New Zoo Penguin The Cutest Name (Video)
Woodland Park Zoo in Seattle, Washington recently chose Anna Faris, Chris Pratt and their adorable son, Jack, to name the zoo's new baby penguin.
The family shared a YouTube video announcing the name "Eagle" for the penguin. Its full name will be "Eagle The Penguin" (spelled E-A-G-L-E, Pratt said).
If I had to guess, I'd say the name was Jack's idea. I'm not quite sure what's cuter: the actual name Jack chose or hearing him announce it.
As you can see in a Twitter exchange between the zoo and Pratt, the zoo was very happy with the family's decision.
I wish the best to Eagle and hope this new name instills the ambition to one day soar in the skies like a real, majestic eagle. I'm rooting for you, pal.
Be sure to check out the announcement in the video above.