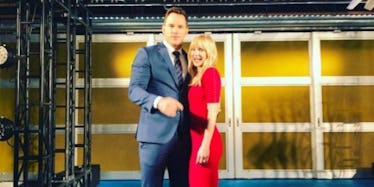 Chris Pratt Gushes Over How Grateful He Is For Anna Faris In Adorable Instagram
Instagram
You need someone in your life who appreciates you the way Chris Pratt appreciates Anna Faris.
The 37-year-old actor brought along his wife, the 40-year-old Faris, and his 4-year-old son, Jack, for the Tokyo leg of a press tour to promote his upcoming film, "Guardians of the Galaxy Vol. 2."
During the trip, Chris Pratt took to Instagram to show his fans what he was doing in Tokyo, as well as show his appreciation for Anna Faris.
The 37-year-old posted the following photo of himself and his wife, and you have to admit, the pair are pretty much the definition of relationship goals.
To caption the above photo, Chris wrote,
My dear sweet @annafaris getting flashbacks from her hilarious role in 'Lost in Translation.' Thank you for the support honey! You look so beautiful. These press tours can be such a whirlwind. I'm grateful to have you and the boy with me on this one. Although it's 3:00 am right now, I was just awakened by a square kick to the back as little man climbed into bed and then must have had a karate dream or something and now I can't sleep. I'm on insta instead. All you dads and moms know what I'm talking about.
I mean, come on! Chris Pratt and Anna Faris are so in love it hurts!
Pratt and Faris got married in 2009, and it appears these two are as in love now as they were then.
The "Guardians of the Galaxy Vol. 2" star posted quite a few pictures from his Tokyo press tour, only adding to the hype surrounding this movie.
To caption the above photo, Pratt wrote,
Here I sir next to a poster for #gotgvol2 discussing how this is probably the greatest movie in the history of cinema. Humbly. #tokyo
What a guy.
Pratt also posted the following photo of himself meeting some very, um, dedicated fans.
To caption the above picture, he wrote,
Had a great time greeting fans from Tokyo. These magical lot were dressed up like he Guardians. Moments like this you realize how much a movie can mean to people around the world. I can't believe I get to be one of the stars bringing this movie to the screen. I've been crying a lot on this tour. Because, you know... they just can't get my latte right. And I try to tel them 'Peruvian breast milk!' How hard is that? still nothing. Urrrrgh.
Chris Pratt, everyone!
Citations: Chris Pratt Praises Anna Faris in Hilarious, Heartfelt Press Tour Posts: 'I'm Grateful to Have You' (Entertainment Tonight)