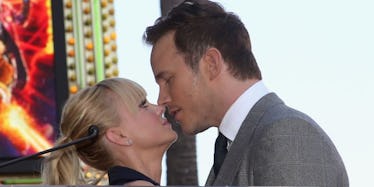 Chris Pratt And Anna Faris Broke Up After 8 Years Of Marriage & Fans Are Heartbroken
Getty Images
NOOOOO. WHAT IS HAPPENING TO THE WORLD? On Sunday night, August 6, Chris Pratt and Anna Faris took to social media to announce they will be "legally separating." The actor and actress, who have been married for 8 years, posted a heartbreaking message on Facebook and Twitter to share the news with fans. Now, there's only one question on everyone's mind: Why did Chris Pratt and Anna Faris break up?
Chris Pratt wrote on Facebook,
Anna and I are sad to announce we are legally separating. We tried hard for a long time, and we're really disappointed. Our son has two parents who love him very much and for his sake we want to keep this situation as private as possible moving forward. We still have love for each other, will always cherish our time together and continue to have the deepest respect for one another.
Elite Daily reached out to Chris Pratt and Anna Faris' teams for comment, but did not hear back by the time of publication.
At roughly 11 p.m. ET on August 6, Faris echoed their joint statement on Twitter. After posting the message, fans began to share their sadness and disbelief over the couple's decision to split.
According to the statement, Pratt and Faris have been trying to make their marriage work for quite some time now. Although they do not go into detail about the decision to end their relationship, they do address the mutual respect and love they have for each other, as well as how they will continue to raise and co-parent their son, Jack.
Chris Pratt and Anna Faris have often been labeled as "couple goals" by fans, due to the hilarious, adorable, and precious moments they've openly shared. It's clear fans are going to be asking questions and wanting answers, but it's also best we give Pratt and Faris the privacy they request and respect they deserve during this difficult time.
Wishing you the best, Chris and Anna.