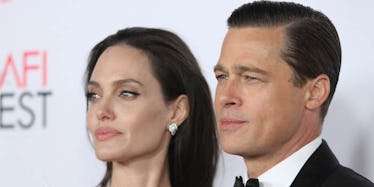 10 Depressing Celebrity Breakups That Make Me Happy AF To Be Single
REX/Shutterstock
SO many celebrity couples broke up this year. Honestly, I'm actually beginning to think the world is falling apart, or there's some guy out there whose sole mission is to break up famous people, because there's no way all of them started out with so much promise only to end so miserably. (I mean, Calvin and Taylor? I had such high hopes for them.)
But if it is true — that Hollywood love is indeed dead, and even long-lasting relationships aren't sacred in any way — then not only have I completely lost faith in love, but I'm also just happy to be single.
I was already happy with my single life, but as I watched each couple fall apart, I realized that, sometimes, even the best things in life don't last forever.
From Brangelina (my personal favorite) to Naomi and Liev to Johnny and Amber, let's break down why each of these splits remind me of why I'm so happy in my single state, shall we?
Naomi Watts and Liev Schreiber
These two dated for 11 years after meeting on the set of "The Painted Veil" (go watch it). Eleven years, people.
What did their breakup teach me? I'd rather be single than have to start all over after a relationship that I invested so much of myself in came to an end.
Lady Gaga and Taylor Kinney
OK, my heart is still breaking for these two.
Their breakup reminded me that if you want to build an empire and continue to build it, you're going to have to sacrifice some things. And sometimes, those things are important pieces of your romantic life.
I'd rather be single and building my empire right now than putting my energy towards trying to make things work in my romantic life.
Calvin Harris and Taylor Swift
TAYVIN! I LOVED YOU GUYS. Their split, which came seemingly out of the blue after they dated for about a year, taught me that things aren't always as they seem from the outside.
Calvin also had to see his ex with someone new way too fast following the breakup (or even during it, according to some sources). I'd rather be single than see my ex with someone new while I'm still trying to cope with the loss.
Tom Hiddleston and Taylor Swift
Taylor, just... no. I wrote a piece about how relationship-hopping never works, and Hiddleswift's breakup following their three-month whirlwind romance confirmed that.
I'm happy to be single-as-hell over here, guys, even if that means not falling back on some rebound guy. Rebounds only temporarily heal the pain from a breakup, but as a single girl, I have a more stable, prolonged sense of happiness.
Diane Kruger and Joshua Jackson
I also had high hopes for these two. They dated for a long time (an entire decade), and everyone pretty much assumed they'd stay together.
They make me happy to be single because Joshua Jackson admitted once that despite their long relationship, he was never going to put a ring on it. I don't think I'd be able to handle a commitment like that without actually sealing the deal. It'd make me feel like I wasn't good enough.
Demi Lovato and Wilder Valderrama
These two dated for six years, which is a pretty long time, especially when you're as young as they are.
Their breakup reminded me that being BFFs with your BF first doesn't always work out. So shoutout to all the guys I friend-zoned. I love y'all, but not like *that.*
I'd rather be single and keep my BFFs than date them and risk losing them forever.
Iggy Azalea and Nick Young
Nick Young, you dirty, dirty scoundrel. Amid allegations that Young cheated on Azalea, Azalea promptly broke up with him.
These two reminded me it's easier to be single than to experience a love that hurts really badly, which is evident from Nick Young's sad Twitter post.
Lea Michele and Matthew Paetz
"I'm in love with a stripper..."
Oh, did you not know Matthew Paetz was allegedly once a "working companion for females"?
Yeah, so the fallout of these two taught me it's better to be single than to be with a guy who's kind of just all over the place, emotionally and professionally (although, I did once try to pass a male escort off as my BF).
I don't have time to deal with someone who's life is erratic be erratic.
Johnny Depp and Amber Heard
Ouch, this one got messy.
Their difficult divorce reminded me it's better to be single than to have to be dragged through a very ugly breakup, or be with a guy who's dealt with major anger issues in the past (and may still be dealing with them).
Brad Pitt and Angelina Jolie
RIP, Brangelina. I loved you guys, on the real.
Also currently going through a difficult divorce, which is including putting their kids in therapy, Brad and Angie make me happy to be single because it eliminates the possibility of ever having to go through something similar.
Their poor kids, you guys.