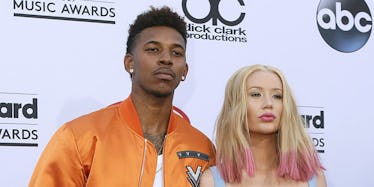 Iggy Azalea Just Broke Up With Nick Young Because She Can't 'Trust' Him
REUTERS
Iggy Azalea and Nick Young are done.
Months after a teammate of Young's recorded him talking about other women, the recording artist took to Instagram to confirm that her and the Lakers star were through.
Here's what Iggy posted on her account.
Young, for his part, also publicly confirmed the breakup, except his form of confirmation was much more brief and straightforward.
He followed up Iggy's Instagram post with this tweet:
The couple had been together for around three years and had gotten engaged just a year ago.
The two stars' breakup will now inevitably be linked to a controversy that revolved around them just a few months ago.
In March, a pair of videos recorded by Lakers rookie D'Angelo Russell were released online by a gossip page. The videos featured Young talking about a 19-year-old woman he'd met and Amber Rose.
The episode seemingly put the couple on rocky terms, but they eventually reconciled and Young escaped with a (super scary) warning.
Now, though, it looks like the damage is done and permanent. Nick Young and Iggy Azalea have broken up, their engagement is over and they'll no longer be getting married.
Another Hollywood couple bites the dust.