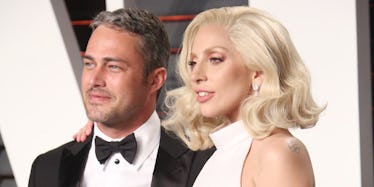 Gaga And Taylor Kinney's Adorable Relationship Timeline Proves Love Is Dead
REX/Shutterstock
As you guys probably know by now, Lady Gaga and Taylor Kinney called it quits after five years together.
The world is gutted by this because they even got engaged and proved to us (for five years, at least) true love does exist, despite all the breakups happening in the celebrity world (and the real world).
Taylor was seemingly just a normal, down-to-earth guy who wasn't threatened by Gaga's overshadowing fame.
In her most recent Instagram post, Lady Gaga cited long distance and hectic work schedules as the main reasons they didn't work out, which sucks because they were so perfect together.
There is nothing more heartbreaking than things you can't really control affecting your relationship.
(Does their breaking up prove you can't be wildly successful and wildly in love?)
Regardless, if their breakup doesn't bring a tear to your eye, I don't know what will.
Let's commemorate them. Without further ado, here are all the biggest milestone moments that made their relationship so special:
When he popped the question with this one-of-a-kind heart ring:
When they made us all envious because they basically looked like a model couple:
When Taylor showed us he was a nice guy and perfect for our queen:
When they rang in the new year together:
When Gaga supported Kinney at his movie premiere:
When they posed nude on the cover of V Magazine:
When Gaga realized at this year's Oscars that Kinney loved her unconditionally:
And when they acknowledged their split, but also acknowledged they'll always love each other:
I am truly heartbroken, almost as heartbroken as I am about Tayvin. Let us all be humbled by this breakup.