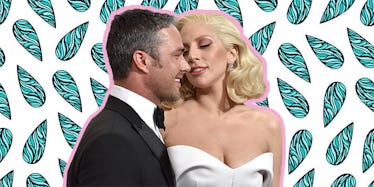 Lady Gaga And Taylor Kinney Reportedly Called Off Their Engagement
REX/Shutterstock
I guess true love is over because Lady Gaga and Taylor Kinney's five-year relationship has come to an end, according to a report from TMZ.
Anonymous sources reported the engaged couple broke up in early July, and the two have not been seen together publicly at events or online in some time.
Lady Gaga was recently seen in Malibu on her fiancé Taylor's birthday without her engagement ring on and, according to photos from TMZ, she is now in Cabo, also without a ring.
The 35-year-old "Vampire Diaries" actor proposed to Gaga on Valentine's Day last year with a beautiful heart-shaped ring. She celebrated the news on social media:
It was only a few months ago the pop star was talking about her wedding plans, which she described as a "family wedding," and taking naked selfies with Taylor. Apparently, things have changed.
The two first met on the music video set for Gaga's 2011 song "You & I," where Taylor played her love interest.
No comment has come in from either of the party's reps at this point.
Citations: LADY GAGA & TAYLOR KINNEY WE BROKE UP (TMZ)