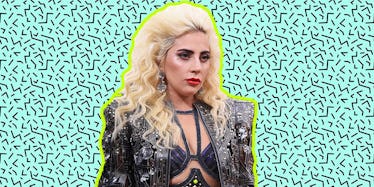 Lady Gaga Just Posted The Saddest Breakup Instagram You've Ever Seen
REX/Shutterstock
No, not like this!
Lady Gaga and Taylor Kinney were the pinnacle of celebrity love and happiness (like the opposite of Taylor Swift and whoever she's dating atm) before rumors of their breakup rocked our world.
The singer has been tight-lipped about reasons behind their collapsed engagement -- until now.
Lady Gaga posted a photo of the couple on Instagram and revealed the sad reason why they can't be together right now.
She wrote,
Taylor and I have always believed we are soulmates. Just like all couples we have ups and downs, and we have been taking a break. We are both ambitious artists, hoping to work through long-distance and complicated schedules to continue the simple love we have always shared. Please root us on. We're just like everybody else and we really love each other.
See! It's all adult and serious... and makes us genuinely upset.
The couple met on the music video set of Gaga's 2011 song "You & I," where Taylor played her love interest.
They announced they were engaged on Valentine's Day last year when Gaga posted an Insta of her massive heart-shaped ring.
Just recently she was talking about her wedding plans and taking naked selfies with Taylor.
But anonymous sources reported they broke up in early July, and the two have not been seen together publicly at events in some time.
She was recently seen in Malibu on Taylor's birthday without her engagement ring on.
They have no choice but to get back together and prove that true love conquers all.