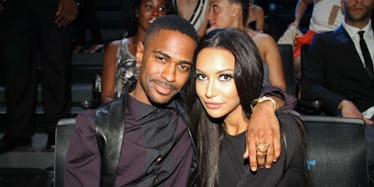 Naya Rivera Caught Big Sean With Ariana Grande On His Lap Before They Split
REX/Shutterstock
We don't want to subscribe to hearsay, but "Dangerous Woman" may just be the perfect way to describe Ariana Grande.
Way back in 2013, "Glee's" Naya Rivera was engaged with Big Sean. However, they had a quite shady break up in April 2014.
The tough cheerleader of "Glee" went on to marry Ryan Dorsey, but her new memoir "Sorry Not Sorry" reveals that Sean was seeing Grande while he was still involved with Naya.
According to Naya's tell-all, Rivera and Big Sean were still together when Grande entered the picture.
She wrote,
We'd been fighting for five straight days while he was traveling, and then on the one day that he was back in L.A., he said he didn't want to see me. Well, asshole, I've got a key to your house.
It was then that the actress went inside the house to allegedly see Grande caught in a terrible position with her Sean. Naya continued,
I walk in, go downstairs, and guess what little girl is sitting cross-legged on the couch listening to music? … It rhymes with 'Smariana Schmande.'
This is where the story gets real, sadly. Rivera had to deal with not only witnessing this act of betrayal, but also learning about the end of her relationship from a third party. She added,
I learned that I was no longer getting married from the Internet, and at the same time as the rest of the world… Not only were we no longer getting married, but apparently we weren't even together anymore.
That was such a cold move, but we wish Rivera and her husband Ryan Dorsey well. She deserves it.
Citations: Naya Rivera Claims She Found Ariana Grande at Then-Fiance Big Sean's House (Us Weekly)