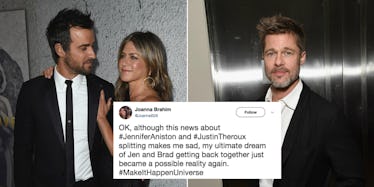 Jennifer Aniston & Justin Theroux Split, So Everyone Is Tweeting About Brad Pitt
Kevin Winter/Getty Images Entertainment/Getty Images // Michael Kovac/Getty Images Entertainment/Getty Images
You guys, my heart just broke into a million tiny pieces, because Jennifer Aniston and Justin Theroux have announced their separation in a statement to the Associated Press. ARE YOU CRYING?? BECAUSE I AM. It was finally her time to find love and happiness! What gives?! Ugh, well, of course, everyone on Twitter is already making the same connection. These tweets about Jennifer Aniston and Brad Pitt prove that not even two minutes after the separation news broke, everyone is already banking on a Brad and Jen reunion.
But wait a second. Let me back up for a minute, because I'm sure your head is spinning as much as mine is. On the evening of Thursday, Feb. 15, 2018 — THE LITERAL DAY AFTER VALENTINE'S DAY, SO HELP ME, GOD — Aniston and Theroux released a statement via Aniston's publicist, Stephen Huvane, to the Associated Press, announcing their formal separation. The two claimed the decision to call it quits for the time being "was mutual and lovingly made at the end of last year." Last year? You mean to tell me that love actually died for the umpteenth time LAST YEAR, and we're only finding out about it now?
Anyway, the couple continued in their statement that they decided to announce this news publicly to keep the rumor mills at bay, essentially. "Normally we would do this privately, but given that the gossip industry cannot resist an opportunity to speculate and invent, we wanted to convey the truth directly," the couple said in their statement. "Whatever else is printed about us that is not directly from us, is someone else's fictional narrative. Above all, we are determined to maintain the deep respect and love that we have for one another."
You know what that means. If you're seeing stories and rumors floating around about Theroux or Aniston that they haven't said themselves (*ahem* like Pitt and Aniston getting back together), then you can rest assured they're probably false. Buuuuuuut that didn't stop Twitter from going HAM on playing around with the idea of a Brad-Jen reunion.
Aniston and Theroux's split comes after a fairly short-lived marriage in the grand scheme of things. According to the Associated Press, the couple was married for about two years, beginning in 2015, and they got engaged in 2012. People reported the couple was together in total for about seven years.
Apparently, though, Aniston and Theroux haven't exactly been attached at the hip for the past few months. Not that that's a bad thing. It's just... curious. According to People, Theroux has spent a good chunk of time in New York, though the couple's home is in L.A. Aniston also recently celebrated her most recent birthday without Theroux there, but that's probably because the separation was decided at the end of last year. So yeah, that'd be a little awk. (Maybe? IDEK separation etiquette, don't @ me.)
Still, though, their time apart may not be all that suspicious. A source claimed to People that some time apart even helped their marriage.
"Justin often spends a few days in NYC by himself," the source claimed to People. "When he is in NYC, Jen will catch up with friends and enjoys her own life. When Justin is in L.A., it's very special for them. They socialize together with friends. They often go out to dinner or have people over."
If you're worried this couple is estranged, though, don't be. The two said in their official statement that they are just "two best friends who have decided to part ways as a couple, but look forward to continuing our cherished friendship."
It's not at all surprising that people can't help but drag Brad Pitt into this. (COME ON, GUYS. LET JEN LIVE FOR A SECOND.) After all, Aniston and Pitt did marry in 2000 and were together until 2005. And I mean, they are the world's OTP, right? Right. Don't fight me on that. Regardless, though, there has been zero confirmation of a Brad and Jen reunion, so those hopes and rumors are only hopes and rumors for now.
Check out the entire Gen Why series and other videos on Facebook and the Bustle app across Apple TV, Roku, and Amazon Fire TV.
Check out the "Best of Elite Daily" stream in the Bustle App for more stories just like this!