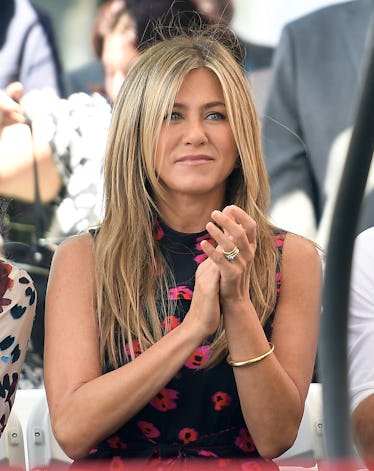 Jennifer Aniston Is Reportedly Splitting From Justin Theroux & Love Is Dead
Matt Winkelmeyer/Getty Images Entertainment/Getty Images
Love is dead. Jennifer Aniston and Justin Theroux are separating after two years of marriage, according to a statement released on Feb. 15. Just after Valentine's Day, the couple decided to go public with their separation, explaining that they wanted to get it out to the public before rumors and speculation started to spread. The statement read,
In an effort to reduce any further speculation, we have decided to announce our separation. This decision was mutual and lovingly made at the end of last year. We are two best friends who have decided to part ways as a couple, but look forward to continuing our cherished friendship. Normally we would do this privately, but given that the gossip industry cannot resist an opportunity to speculate and invent, we wanted to convey the truth directly. Whatever else is printed about us that is not directly from us, is someone else's fictional narrative. Above all, we are determined to maintain the deep respect and love that we have for one another.
Though we don't know too much as to why the couple decided to call it quits, Aniston and Theroux remain "cherished friends" and agree that the decision was, "mutual and lovingly made at the end of last year."
For a little while now, the couple hasn't been seen together much. Theroux has been spotted in New York City alone, away from their home in Los Angeles, quite a bit in recent months. Plus, both actors also took on projects that kept them busy and apart. Aniston spent time in Atlanta filming a new Apple TV series with Reese Witherspoon called Dumplin', while Theroux filmed upcoming comedy film The Spy Who Dumped Me in Budapest.
According to People, the news of their split comes days after Aniston celebrated her 49th birthday on Sunday, Feb. 11 sans hubby Theroux. Friday of that same weekend, Theroux was seen walking his dog in NYC.
Sources previously told People that the couple's schedules and time apart shouldn't signal anything suspicious. Explaining that when Theroux spends a few days in NYC alone, "Jen will catch up with friends and enjoys her own life." It works for them and allows the couple to have some time on their own and then enjoy their time together that much more. "When Justin is in L.A., it's very special for them," the article read.
The couple met back in 2008 on the set of Tropic Thunder, but did not begin dating until 2011. After a few years of dating, Aniston and Theroux tied the knot at a secret wedding in 2015, according to People.
"They were giddy to have pulled off an amazing wedding celebration with their friends. And they were proud to finally be married," a source told People.
Well, I thought they would last. Guess we really can't have nice things.
We still can't forget that Aniston was previously married to Brad Pitt from 2000 to 2005 (seems like a whole other lifetime). She then dated Vince Vaughn and John Mayer for a little before getting together with Theroux.
Some people are still shipping Aniston and Pitt, though.
But don't worry — there were other people there to remind those people of why the couple broke up in the first place.
But mostly, everyone was just sad to hear the news.
Well, folks, most of us didn't see this split coming, but that's all she wrote on another Hollywood couple. Love really is dead. We were all rooting for Jen and Justin and for their love, but all the best to the both of them. *Quietly wipes away tears."