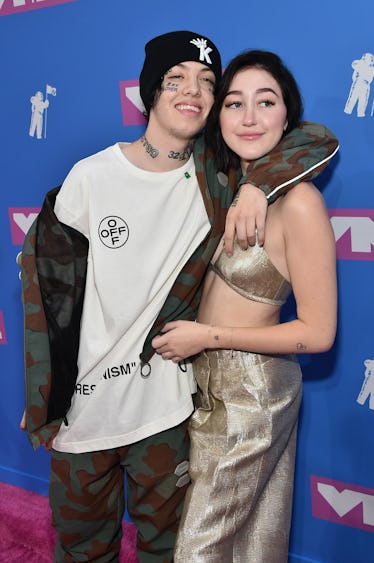 Noah Cyrus Just Turned The Tables On Lil Xan After He Accused Her Of Cheating On Him
Mike Coppola/Getty Images Entertainment/Getty Images
As quickly as Noah Cyrus and Lil Xan's romance stepped into our lives, it has just as quickly left us. Though their relationship was relatively new — confirming their relationship with a slew of steamy photos back in late July — the couple is no longer together, breaking up in a very public (and very messy) way. On Monday, Sept. 3, we got word from Lil Xan, accusing Noah Cyrus of reportedly cheating on him on his Instagram story. Elite Daily reached out to both Cyrus' and Lil Xan's teams for comment on the breakup, as well as the cheating allegations, but has not heard back at the time of publication. But now, Noah Cyrus' response to Lil Xan's cheating accusations could convince you there's more to this story than we initially thought. Let's talk about it.
So, the backstory on the actual breakup goes a little something like this: On Sept. 3, Lil Xan took to his Instagram Story to tell his fans that he was unsure of Cyrus' faithfulness. "I feel like I'm probably being cheated on," he captioned one of his Stories, which was then screenshotted by Hot New Hip Hop.
He then took to Instagram Live, letting his fans know that the song "Live or Die," a collaboration between the rapper and Cyrus, would no longer be coming out, and hinting towards the fact that he and Cyrus are no longer together. He told fans:
The 'Live or Die' video is not gonna be coming out at this point, because I've been informed, like, you know when you, like, like a girl and sh*t and whatnot? But I've just been informed that basically it was all fake, and I'm being used. So f*ck it. I guess I was just being used. I thought, you know, I was in love, but whatever. I'll take that L. Heartbreak soldier. Thanks, Noah. Hope the song does well, if Columbia puts it out. Love all my fans, though.
If you're wondering why exactly Lil Xan had these feelings, you're not alone. And let's just say that things get weird from here on out.
In a now-deleted Instagram Story from Cyrus, she revealed that the reason the pair broke up was that Cyrus reportedly texted Lil Xan a photo that depicts singer Charlie Puth's head photoshopped onto a naked body, which led Lil Xan to believe that Cyrus was cheating on him. Elite Daily reached out to both Cyrus' and Lil Xan's teams for comment but has not heard back at the time of publication.
Cyrus then posted the photoshopped image that she reportedly sent (I'm assuming jokingly) to Lil Xan to show her fans, and wrote, "I'm heartbroken and confused. This is the meme I sent Diego that made him think I'm cheating on him." (In case you didn't know Diego Leanos is Lil Xan's real name, now ya know.)
Are you all caught up? Great, because here's where things really start to take a turn.
Now, Noah Cyrus has turned the tables around to point the finger at Lil Xan, accusing him of cheating on her. Elite Daily has reached out to Lil Xan's team for comment on the breakup, as well as Cyrus' cheating allegations, but has not heard back at the time of publication.
Cyrus took to her Instagram Story to first clear the air of any rumors that their relationship was staged, confirming that the pair started dating after Lil Xan DMed her to "hang out":
Cyrus then revealed that she hasn't seen Lil Xan in "almost a week," noting that their schedules just weren't syncing up. But then Cyrus claims that she reportedly saw a "girl on a court on his story at 2 am," and when she FaceTimed Lil Xan, she noticed that he had a hickey:
Cyrus then shared a photo of Lil Xan with what is reportedly a hickey on his neck, and dated the photo Sept. 1.
Then, she responded to the cheating allegations, telling her fans that Lil Xan is the one who is reportedly cheating. She wrote:
Cheaters like to accuse their partners of cheating to make themselves feel less guilt. This isn't the first time this has happened to me and now I'm being forced to deal with crazy accusations when I'm not even sure where all this came from.
Her last post to her Instagram Story was directed at Lil Xan, writing, "I've been there for you during your dark times ... if this was your way of breaking up with me and breaking my heart along with it, then you've succeeded."
Sigh. I'd say that I'm shocked and surprised at this whole thing, but sadly, I'm neither. Let's hope these two can just peace out of this relationship with no further drama. Unlikely, I know, but a girl can dream!