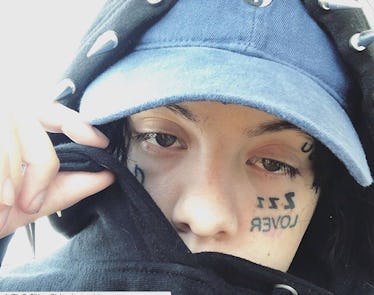 Noah Cyrus' Boyfriend, Lil Xan, Could Be Changing His Stage Name Sometime Soon
Instagram/Lil Xan
I'm not exactly up to date on the hot and happening rappers of the SoundCloud generation, but Noah Cyrus' new beau, Lil Xan, is apparently one of them. And while to me, he's Hannah Montana's little sister's boyfriend, he's actually kind of a big deal. The "Betrayed" artist boasts 4.4 million followers on Instagram, has a platinum certified hit, and recently nabbed a VMA nomination for Push Artist Of The Year. So yeah, he's a lot more than the star of Noah's PDA-packed IG posts. But as a recovering addict of the drug that inspired his infamous stage name, Xanax, could he be considering a title change? What is Lil Xan's real name?
In a recent interview with Pigeons & Planes, the rapper opened up about his personal and musical evolution, and what that could mean for his identity as Lil Xan. He told the publication:
The whole thing is like a journey. It's not like, 'Oh, Xan made a song a long time ago embracing Xanax, he's a f*cking liar.' They can see my journey unfold. That many months ago I was going through that and that's how things were up until 'Betrayed.' Now they can see where it started, what happened, and where I am now. I thought maybe I should delete those tracks, but then I was like, 'I should leave them up for that purpose solely.' It's perfect. People can change. Look at my old stuff, I was embracing all of it, and look at how far I came.
Born Diego Leanos, the 21-year-old California native dropped out of high school his freshman year and very literally turned to the streets to get by. Leanos says he worked as a street cleaner and sold drugs. Despite earlier pursuits in photography, which he raps about on "Exposed," Cyrus' new man took up music and never looked back.
It was his 2017 chart-topper, "Betrayed," that brought recognition. The anti-Xanax track, which peaked at No. 74 on the Billboard Hot 100 and earned 213 million Youtube views, includes the lyrics "Xans don't make you / Xans gon' take you / Xans gon' fake you / And Xans gon' betray you." Nearly three months after the song's release, Columbia Records signed Lil Xan to a management and label deal.
Despite admitting to drug use while working on the hit, Leanos got sober after years of abuse and is now an outspoken advocate of the anti-xanax movement. In an interview with Genius, he dished on being "painfully addicted" to the drug for two years. "I know what it's like to be addicted to that," he said. "I was lucky enough to get off that sh*t." According to Lil Xan, the famous lines out of "Betrayed" came straight from personal experience. He said:
I definitely learned that lesson after I kept ending up in the hospital from withdrawing. I was doing narcos too, so I was withdrawing from opiates and benzos. It landed me in the hospital too many times, and one day I was just like, 'This ain't fun. I can't live this life.' A lot of rappers don't really be talking about not doing drugs, you know? It's like the opposite way. So, it's like refreshing I think.
The death of fellow SoundCloud rapper, Lil Peep — who died of a fentanyl and xanax overdose — hit Xan especially hard. "After that tragic passing, it definitely got more real," he confessed to Pigeons & Planes. "It was something I knew I had to help change...I'm not saying it was the turning point for me deciding to be anti-Xan — I was anti-Xan months ago — but it was definitely a reminder that this s**t is real."
Since kicking the habit, Leanos has toyed with the idea of dropping his stage name. "I thought about changing my name to Diego, but for right now we gonna stay Lil Xan," he told TMZ reporters in January. "And later down the road, yeah, I'll change it to Diego."
Given his booming success, Leanos isn't looking to switch things up just yet. But whether he performs under "Lil Xan" or ultimately goes back to Diego, the Total Xanarchy artist is making major waves for his music and anti-Xanax stance.