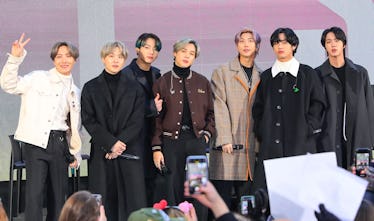 22 BTS 'Map Of The Soul: 7' Instagram Captions To Inspire All Your Followers
Jose Perez/Bauer-Griffin/GC Images/Getty Images
Fans had to wait 10 months before they got a new album on Feb. 21 from BTS and, while that may seem short for others, it was a lifetime for the BTS ARMY. It was the longest they ever had to wait without a comeback from the band. Now that fans have taken some time to process the genius that is MOTS: 7, they've wasted no time choosing their favorite tracks and lyrics. The album has everything from rock and hip hop, to R&B and pop, further showcasing the group's ability to dive into any genre. If you want to share your love for BTS on IG, here are 22 BTS Map Of The Soul: 7 Instagram captions that will do just the trick.
BTS isn't afraid to touch on hard subjects in their music, and that's what makes their songs so appealing. The group has lyrics that will resonate with anyone, so whether you're feeling flirty, sad, lonely, angry, confident, or happy, BTS has a lyric that will perfectly capture your every mood.
Check out 20 BTS MOTS: 7 lyrics for all your IG-caption needs below.
1. "This is the map of my soul." — from "Intro: Persona"
2. "From the moment I met you, my life was all you." — from "Boy With Luv"
3. "A little taller than I was before, with a voice a little more solid. All of this to go back to you." — from "Make It Right"
4. "Please give me a remedy that will make my heart beat again." — from "Jamais Vu"
5. "Until the sun comes up, where the party at?" — from "Dionysus"
6. "I got a big dream... I wondered everyday how far I'd go." — from "Interlude: Shadow"
7. "Do your thang." — from "Black Swan"
8. "Heartbeat pulsing slow in my ears bump bump bump." — from "Black Swan"
9. "I can be your Genie. How 'bout Aladdin?" — from "Filter"
10. "The more you look, the cuter I am, like crazy. Overcoming different tastes and standards, you'll be wanting only me." — from "Filter"
11. "Sometimes when I'm gasping for air, I wear my hat low and keep running." — from "My Time"
12. "That's the thing about the dark: it exists everywhere. Don't be afraid." — from "Louder than Bombs"
13. "Can't hold me down 'cuz you know I'm a fighter." — from "ON"
14. "The truths may become false, the lies may become true." — from "UGH!"
15. "When the minute and second hands overlap, the world holds its breath for a little while. Zero o'clock." — from "00:00 (Zero O'Clock)"
16. "When this song ends, may a new song begin, hoping that I'll be a little happier." — from "00:00 (Zero O'Clock)"
17. "It will be okay, because today's me is doing fine." — from "Inner Child"
18. "Hello, my alien. We are each other's mystery." — from "Friends"
19. "You are my Earth, and all I see is you." — from "Moon"
20. "Should I go or should I stay?" — from "Respect"
21. "I always think, 'Am I still in a dream? Is it really spring that came after the long winter?'" — from "We Are Bulletproof: The Eternal"
22. "Look ahead, the way is shinin'. Keep goin' now. Ready, set, and begin." — from "Outro: Ego"
If these lyrics are inspiring you to have a BTS listening session, check out their latest "ON" music video below.