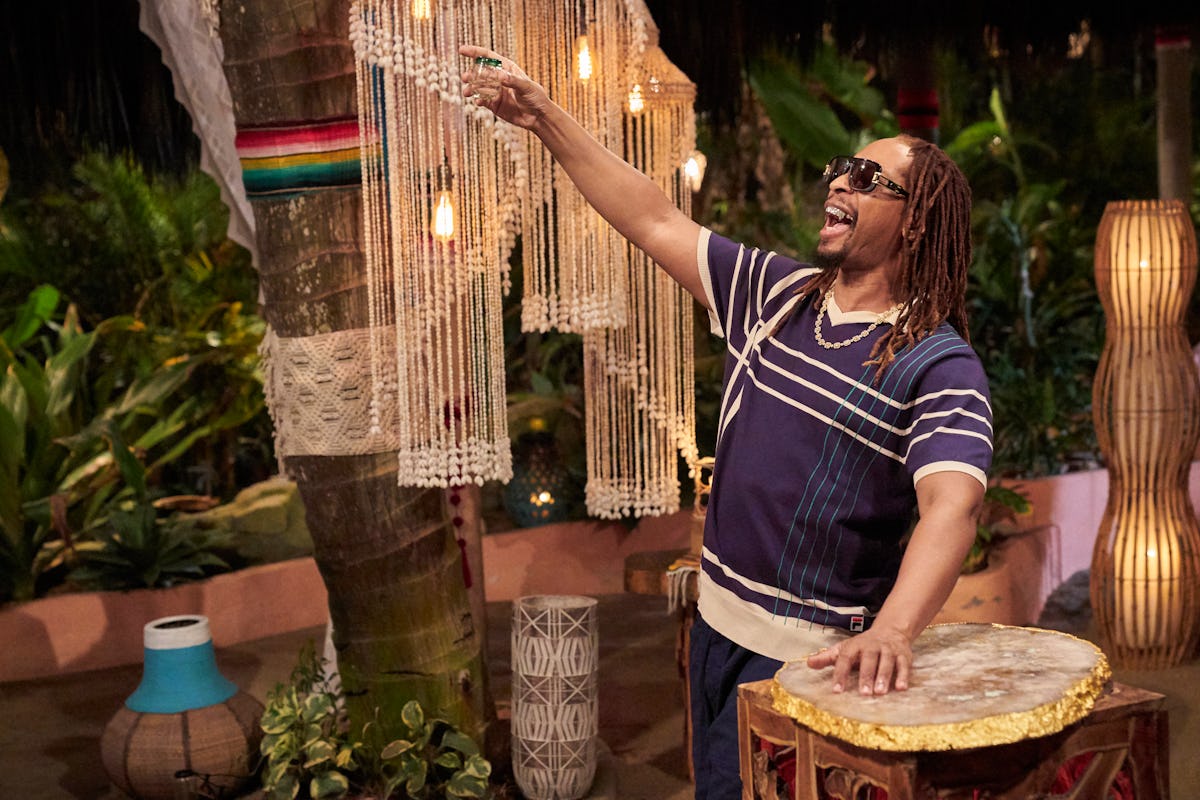 Say Hello To The New Men On Bachelor In Paradise
Finally, some low-drama additions.
ABC/Craig Sjodin
Some people love summer for the sand, some for the sun, and some for the chance to watch very hot singles search for love on reality TV. As every good Bachelor Nation fan knows, the warm weather means the chance to watch your favorite contestants from previous Bachelor and Bachelorette seasons flirt and fight on the beach. If you're wondering who's left (or who has newly joined) Bachelor in Paradise Season 7 this week, here's your end-all-be-all BIP newcomer guide.
Season 7 of BIP has been especially awaited since it was actually supposed to happen *last* year. After a very long hiatus due to the coronavirus pandemic, production finally got picked up and in addition to being the safe move, it was clearly worth the wait. Not only are a wide array of celebrities hosting the season, but with two years' worth of contestants to choose from, there were a lot of previously eliminated folks looking for love.
Season 7 started with 23 contestants, but that number is going to fluctuate throughout the season. So, here's who joined the Bachelor in Paradise cast this week, to either find a love story or ruin one that's in the process of being written.
Bachelor In Paradise Week 5 Newcomers
It wouldn't be Bachelor in Paradise without random new contestants getting added to the cast just when couples were getting settled. Watch your brackets, Bachelor Nation, because here's who joined the beach this week:
For the first time in what seems like the entire season, the newcomers who arrived at the beach managed to not cause a ton of drama. After Brendan Morais and Pieper James self eliminated and fan-favorite Demi Burnett (as well as Jessenia Cruz, Deandra Kanu, and Tammy Ly) all got sent home roseless, it was time to bring in some new potential matches... as well as celeb host Lil Jon.
In an effort to create more matches in Paradise, two guys from Clare Crawley's season — Blake Monar and Dr. Joe Park — came to the shores looking for love. While it seemed like Dr. Joe and Natasha Parker might become a thing, after she told him about her history with Brendan (who happens to be close friends Dr. Joe), their bond quickly cooled. Luckily, it looks like more new guys are arriving next week, which means all hope isn't lost for more connections to be made in Mexico this season.
Bachelor In Paradise Week 4 Newcomers
It's a new week in the dystopian resort that is Paradise, and with more drama comes more singles getting added to the Bachelor in Paradise cast. Here's who washed ashore this week:
Kendall Long
Pieper James
Alana Milne
Chelsea Vaughn
Week 4 brought drama, exes, and one of the wildest villain edits to date. The Monday episode finally caused a few love triangles to come to a head. First, Kendall Long, Grocery Store Joe's ex, marched directly onto the beach and confronted Joe about the end of their relationship. After chatting, they seemed to come to the conclusion that things were over, and Joe went back to Serena P. to tell her he understood it was a weird situation, but that he wanted to keep building his connection with her.
If that love triangle wasn't messy enough, Brendan's rumored pre-Paradise love interest, Pieper James (from Matt James' season), finally arrived. It became very clear very quickly that the two seemingly had a plan going into Paradise: Right off the bat, Pieper said she was specifically there for Brendan, and after a 1-on-1 date, they were attached at the hip and Brendan told Natasha things were over. Luckily that's where Monday night ended, because, woof.
On Tuesday, things got a little more fun with a party hosted by Tituss Burgess with a musical performance by Cruel Summer's Olivia Holt. The catch: Only a handful of the contestants were invited to the party, and some new singles were brought in to mingle with them: Alana Milne, Chelsea Vaughn, Mykenna Dorn, and Alayah Benavidez. And if the newcomers made a connection, they would get to join the official BIP cast. It was like a Paradise within a Paradise.
During the party, despite having a connection with Jessenia, Chris C. made out with Alana, who then joined the cast the next day. The two went on a 1-on-1, and Jessenia wrote Chris off completely. When Chris came back from the date, a handful of contestants confronted him and said it wasn't cool what they did, so Chris and Alana packed their bags and self-eliminated, leaving the show decidedly not together.
Luckily, things went a little better for Chelsea Vaughn, who also joined the Paradise cast following the Olivia holt party. She went on a 1-on-1 date with Aaron, and their date didn't end with either of them leaving the beach, so I'd count that as a win!
No word on whether the other two women from the party, Alayah and Mykenna, will end up on the beach at a later date, or whether their brief cameos at the party are all fans are going to see from them.
Bachelor In Paradise Week 3 Newcomers
Another week, another new round of singles were added to the Bachelor in Paradise cast. Here's who arrived to the beach to cause some waves:
Chris Conran
Chasen Nick
Becca Kufrin
Tia Booth
The Monday, Aug. 30, episode immediately brought in Chris C. and Chasen, both of whom were on Season 16 of The Bachelorette. The duo got a double date card, so Chris asked Jessenia while Chasen asked Deandra. Upon returning from the date, Jessenia broke things off with Ivan because she felt more of a spark with Chris, and Karl tried to win Deandra by giving her a charm bracelet. Which in turn, led Chasen to give her a very sparkly chain necklace, and eventually, resulted in both guys getting sent home when Deandra gave Ivan her rose as a gesture of friendship.
Chasen's arrival also low-key broke up another relationship. Mari, feeling like she wanted to ~keep her options open~ with the new guys, expressed her desire to Kenny, which is how Kenny and Demi ended up in the Boom Boom Room and Mari ended up sobbing on the beach. Speaking of the Boom Boom Room, Connor finally found out about Riley and Maurissa's visit there and was, rightfully, hurt. Then, as advertised, Becca Kufrin (the first-ever former Bachelorette to join the BIP cast) arrived to Paradise, which caused pretty much everyone to panic. Ultimately, she gave her rose to Aaron, and since Tre and Tahzjuan both self-eliminated, the only other guy to get the boot during the rose ceremony was Connor.
For one final dose of drama, Tia Booth — who dated Colton Underwood on BIP Season 5 — joined the beach, asked Kenny on a date, and pissed Demi TF off. While it's unclear who Kenny'll pick next week when he has a rose to hand out, it's clear there'll be drama either way. Not only with Demi, but with Grocery Store Joe and Serena as well, because it looks like Joe's ex, Kendall Long, is officially making her way to Paradise next week. Hold onto your cocktails, folks. The chaos is just getting started.
Bachelor In Paradise Week 2 Newcomers
Here's who joined the Bachelor in Paradise cast this week to find love, ruin some bonds, or a little of both:
Demi Burnett
Riley Christian
Thomas Jacobs
During the Monday, Aug. 23 episode, the newly-arrived Demi started connecting with Brendan Morais, only to feel denied after he said he wanted to keep his options open. Then, the Aug. 24 episode brought in Riley and Thomas, both of whom quickly caused some drama. Riley connected with Maurissa Gunn, who had already bonded with Connor "The Cat" Brennan. Meanwhile, Thomas caused many of the guys to get on edge.
In case you forgot, Thomas was a source of drama on Katie Thurston's season of The Bachelorette, so it seemed like the contestants weren't exactly enthused to see him on the beach. However, there's one guy who may not have beef with him. Even though Thomas took Serena Pitt on a fun date on the water, she told him she didn't want to pursue a relationship with him; instead, she wanted to continue exploring her bond with Joe Amabile (aka Grocery Store Joe). The episode ended just before a rose ceremony — in which the women will be the ones handing out the roses — which means at least a few guys will be going home next week. Now taking bets on whether or not Thomas sticks around!
Bachelor In Paradise Week 1 Newcomers
The first episode of Season 7 was pretty much just an intro to all of the cast members. But just when it seemed like the originally announced Paradisians would be only singles looking for love on the beach in Episode 1, another Bachelor Nation alumna arrived during the final moments of the episode. Demi Burnett stepped onto the sand claiming she was going to "steal everyone's men," so it seems like some drama has definitely washed ashore.
In case you forgot, Demi was on Season 6 of BIP, when fans saw her love story with Kristian Haggerty play out. While the couple made history for being the first same-sex couple to leave the BIP beach engaged, they split in October 2019.
This means Demi is back to find a new partner... or cause trouble (or a bit of both). Here's who else stepped into the sandy spotlight during the premiere episode:
Joe Amabile
James Bonsall
Kenny Braasch
Connor Brennan
Serena Chew
Aaron Clancy
Tré Cooper
Jessenia Cruz
Noah Erb
Maurissa Gunn
Ivan Hall
Tahzjuan Hawkins
Abigail Heringer
Deandra Kanu
Victoria Larson
Tammy Ly
Brendan Morais
Natasha Parker
Victoria Paul
Mari Pepin-Solis
Serena Pitt
Karl Smith
Kelsey Weier
Bachelor in Paradise Season 7 airs Mondays and Tuesdays at 8 p.m. ET on ABC.
This article was originally published on