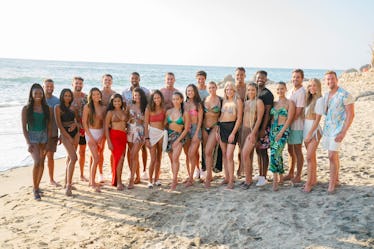 Here's Everyone Who Got The Boot On Bachelor In Paradise Week 7
ABC/Craig Sjodin
Watching a lot of very hot people make very poor decisions while looking for love on a tropical beach is pretty much the best part of summer. After a long hiatus due to lockdown, Bachelor in Paradise is back, which means more love stories, more tan lines, and more drama. As each week provides new contestants and curveballs, you're probably trying to remember who's still on the hunt for an S.O. Consider this your "who went home this week on Bachelor in Paradise" guide, filled will all the BIP drama that'll be sure to live in Bachelor Nation infamy.
While Season 7 of BIP was originally supposed to air in 2020, the production got pushed back a whole year, which meant by the time filming actually began, there were tons of singles from previous seasons eager to pack their sunnies and head to the sand. Season 7 started with 23 contestants, but the chances of them all finding their perfect partners are slim. Just speaking the truth here!
In addition to celebrity hosts and some surprise Bachelor Nation guest stars, this is definitely the BIP season to watch. And while it's never fun to see your favorite contestants get eliminated, watching their dramatic journeys unfold sure is. Here's the week-by-week breakdown of who left Paradise without a plus-one:
Bachelor In Paradise Week 7 Eliminations
Well, this three-hour extravaganza of an episode was a whirlwind. The episode started with Ivan Hall and Aaron Clancy fighting over Chelsea Vaughn, with everyone on the beach getting involved in the drama. It seemed like it was just going to be Chelsea's choice between the two guys during the rose ceremony, but the drama went to another level right before the rose ceremony when this week's host, the one and only Wells Adams, asked to speak to Ivan privately.
Ivan revealed that when everyone had to evacuate the beach because of a storm during the Sept. 21 episode, Ivan snuck out of his room and met up with Alexa Caves. Alexa was a contestant on Peter Weber's Bachelor season and was hanging out near the Paradise set presumably so producers could bring her on later in the season. But their secret tryst upended all the plans. Ivan apologized to the entire group and decided to remove himself from Paradise; no word what happened to Alexa.
After Ivan self-eliminated, it was time for the actual rose ceremony. Chelsea had an easy choice and gave her rose to Aaron. But Tia Booth still had a big decision to make with her rose, since she was caught in a love triangle with Blake Monar and James Bonsall. She wound up giving her rose to James, since he showed more of an effort with her, leaving Blake rose-less. He left the beach, along with Demar Jackson and Joe Park.
With the season finale next week, the remaining Paradisians have one last chance to decide whether or not they're ready to take their relationships to the next level.
Bachelor In Paradise Week 6 Eliminations
Sometimes Bachelor in Paradise is just the thing Bachelor Nation alums need for a second chance at love. And then other times… it just doesn't work out that way. Unfortunately for Kendall Long, the latter was the case for her. She joined Bachelor in Paradise this season and was forced to confront her ex-boyfriend Joe Amabile flourishing in a new relationship with Serena Pitt. She struggled right from the start of her time on the beach, and it all came to a head for her in the Sept. 21 episode.
Kendall took Joe to the side for a private conversation and told him that it was hard watching him thrive because it reminded her of all the things that made her fall in love with him in the first place. "I never stopped loving you, obviously," she told him. Joe hugged Kendall and comforted her, but he didn't exactly reciprocate her feelings.
"To be honest, the reason I came out here is because I knew it was over between us and if I didn't feel that I wouldn't have come," Joe said. "I was under the impression you felt the same way."
Since Joe was definitive about the end of his relationship with Kendall, she decided that it was too "tortuous" to remain on the beach. She quickly said goodbye to Ivan Hall, who'd given her his rose last week, and made her exit from Paradise.
That left Ivan without any prospects going into the next rose ceremony... that is, until he made a last-minute move to flirt with Chelsea Vaughn during the cocktail party. Aaron Clancy was already tied to Chelsea though, and everyone knows the last thing you want is to get Aaron angry. It'll be Chelsea's choice when the rose ceremony airs next week.
Bachelor In Paradise Week 5 Eliminations
After Chris Conran and Alana Milne's dramatic exits last week, the Paradise crew was still on high alert for anybody who might be on the beach for the wrong reasons... and they discovered two more culprits. Brendan Morais and Pieper James coupled up as soon as Pieper joined the beach, even though Brendan had been exploring a relationship with Natasha Parker. It soon became clear Brendan and Pieper knew each other before Paradise and they joined the show in order to spend more time with each other. But since the whole point of Paradise is to find a relationship, it doesn't exactly make sense to start off on the show already more or less in one. The rest of the Paradisians were not happy with the way Brendan and Pieper acted, so they confronted them about it in the Sept. 14 episode. "They don't think they did anything wrong but it feels like they're playing games," Joe Amabile said.
After a whole lot of yelling and even more attempts at defending themselves, Brendan and Pieper decided to leave Paradise together, saying it just wasn't an environment they wanted to be in anymore. They drove off together, but not before Brendan tried to explain the whole situation one more time by saying, "I didn't want to intentionally mislead anyone. I just withheld information." Sure, Jan.
After Brendan and Pieper left, it was time for the episode's rose ceremony. But first, Wells Adams stopped by with a special announcement. He said it didn't feel right to him that so much of Natasha's time had been wasted with Brendan, so she automatically received a rose and got to stay another week. That meant four instead of five women had to be eliminated: Demi Burnett, Deandra Kanu, Jessenia Cruz, and Tammy Ly. The elimination was especially rough for Tammy; her heart was broken by Thomas Jacobs (who chose Becca Kufrin over her), and on top of that, it was also her birthday. She cried that being dumped by Thomas was 10 times worse than when she got COVID on her birthday last year, which is... a lot. Hopefully, next year's birthday will be a little happier for her.
Bachelor In Paradise Week 4 Eliminations
The Sept. 6 and 7 episodes featured many more arrivals than departures. But just because the week's exits were small in number, it doesn't mean they were small in impact. Following an elimination-less Monday episode, Tuesday night's episode ended with a double self-elimination of two unsuspecting individuals: Chris Conran and Alana Milne.
Chris joined the Paradise cast in Week 3, when he immediately hit it off with fellow contestant Jessenia Cruz. They pair seemed like one of the strongest couples on the beach... until Week 4 shook things all up. During Tuesday's episode, Alana came on as a surprise addition to the cast, and she and Chris quickly made it clear that not only did they know each other before going on the show, but they also intended to continue getting to know each other very well on the show. After a steamy makeout sesh during Alana's first night in Paradise (which, of course, Jessenia saw), Alana then took Chris on a date the next day, during which they agreed they wanted to keep dating.
But that wasn't the only decision being made at the time. Back with the rest of the cast, multiple Paradisians were seething over Chris and Alana's decisions, claiming the two were only on the show for clout, since they seemingly already decided they wanted to be together. When the couple returned from their date, cast members including Joe, Riley, and Jessenia herself reamed out Chris and told both Chris and Alana to go home. After talking it over, both ousted contestants heeded that advice and left. However, instead of leaving together and pursuing a relationship IRL like some happy couples do, Chris and Alana got in separate cars for what could only have been very sad, very lonely journeys away from Paradise.
Bachelor In Paradise Week 3 Eliminations
Bachelor in Paradise is getting real, and with each round of newcomers — including Chris C. and Chasen from Season 16 of The Bachelorette — comes more and more people packing their bags and leaving the resort. Right off the bat, Chris C. bonded with Jessenia, who in turn dumped Ivan, while Chasen bonded with Deandra. This pissed Karl off, so Karl gifted Deandra a bracelet... then Chasen gave her a necklace. Then Deandra gave Ivan her rose and sent both guys home because she cannot be bought!
After Tre told Tahzjuan he wasn't feeling it anymore, he self-eliminated. Then, when former Bachelorette Becca Kufrin arrived to Paradise, Tahzjuan felt the pressure and self-eliminated as well. Becca ended up giving her rose to Aaron, saying he was the "funniest person on the beach," which is weird because Demi's right there!
Speaking of Demi, she was still vibing with Kenny, but when Tia Booth joined the cast after the rose ceremony and asked him on a date, it's pretty obvious Demi and Kenny might not be going back to the Boom Boom Room. While next week is sure to bring the drama — Joe's ex, Kendall Long, is set to arrive — here's who will still be trying to find their perfect partners heading into Week 4:
Joe Amabile
James Bonsall
Tia Booth
Kenny Braasch
Demi Burnett
Riley Christian
Aaron Clancy
Chris Conran
Jessenia Cruz
Noah Erb
Maurissa Gunn
Ivan Hall
Abigail Heringer
Thomas Jacobs
Deandra Kanu
Becca Kufrin
Tammy Ly
Brendan Morais
Natasha Parker
Mari Pepin-Solis
Serena Pitt
Bachelor In Paradise Week 2 Eliminations
Week 1 might have been low on the eliminations, but some fan-favorites got cut quickly during Week 2. The Aug. 23 episode mostly centered on whether or not two different contestants — Brendan Morais and Victoria Paul — had relationships back home. The word on the beach was Victoria had been dating a musician from Nashville and Brendan had connected with The Bachelor Season 25's Pieper James. Victoria insisted she and her BF broke up before she went on Paradise, but still, she self-eliminated instead of waiting around for the ceremony. Luckily for Brendan — who made out with and then slightly rejected Demi Burnett — the guys had the roses first. This meant he was safe until the next ceremony, but unfortunately, queen-turned-goddess Victoria Larson, Kelsey Weier, and Serena Chew weren't as lucky and all went home rose-less.
During the Aug. 24 episode of Week 2 (which was hosted by Lance Bass, LOL), a few newcomers came to the beach — Riley Christian and Thomas Jacobs. Thomas' arrival ruffled a lot of feathers (since he was one of the "villains" of Katie Thurston's season) and Riley's huge arms impressed literally everyone. After going on a 1-on-1 date with Maurissa Gunn — which involved a Fear Factor-style dining experience and some serious PDA — it's kinda looking like Conner will be in hot water next week.
For now, here are the contestants still in the running to find ~the one~ during Week 3:
Joe Amabile
James Bonsall
Kenny Braasch
Connor Brennan
Demi Burnett
Riley Christian
Aaron Clancy
Tré Cooper
Jessenia Cruz
Noah Erb
Maurissa Gunn
Ivan Hall
Tahzjuan Hawkins
Abigail Heringer
Thomas Jacobs
Deandra Kanu
Tammy Ly
Brendan Morais
Natasha Parker
Mari Pepin-Solis
Serena Pitt
Karl Smith
With a rose ceremony on the horizon, I have a feeling this list is gonna get whittled down next week...
Bachelor In Paradise Week 1 Eliminations
After the long-awaited return, Season 7 of BIP started out with introductions, makeouts, and a whole lotta David Spade jokes. The celeb host's retorts and chaotic energy — as well as the first one-on-one date of the season (between Noah Erb and Abigail Heringer) — took up most of the first episode. In fact, there wasn't even time for a rose ceremony, which means all of the contestants stayed on for Week 2. Here's who will be searching for love next week:
Joe Amabile
James Bonsall
Kenny Braasch
Connor Brennan
Serena Chew
Aaron Clancy
Tré Cooper
Jessenia Cruz
Noah Erb
Maurissa Gunn
Ivan Hall
Tahzjuan Hawkins
Abigail Heringer
Deandra Kanu
Victoria Larson
Tammy Ly
Brendan Morais
Natasha Parker
Victoria Paul
Mari Pepin-Solis
Serena Pitt
Karl Smith
Kelsey Weier
The episode ended with Bachelor Nation vet Demi Burnett arriving to the beach, which means no matter what next week brings, you can be sure drama will wash ashore.
Bachelor in Paradise Season 7 airs Mondays and Tuesdays at 8 p.m. ET on ABC.
This article was originally published on