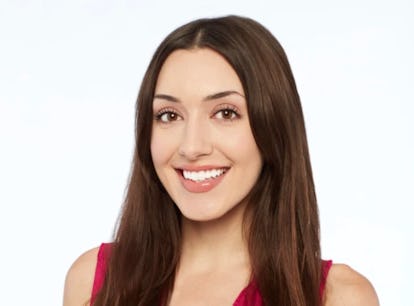 This New Paradise Contestant Had 1 Guy Smitten From The Start
Alana made waves with Chris even before the show.
ABC/Craig Sjodin
One of the most dramatic things to wash ashore Bachelor in Paradise are newcomers who stir up all kinds of feelings among the already-established couples. During the Sept. 7 episode, a contestant from Matt James' season arrived on the beach and quickly made it clear she was going to go after exactly what she wanted. So, who's the girl making moves on Chris Conran, and how did they already know each other? Here's everything you need to know about Alana Milne, including her real job, age, social media:
If you were staring at your screen like "who is this girl" when Alana showed up, you're not alone. While Alana is a Bachelor Nation alumna, she wasn't onscreen for very long in the past. She appeared on Matt James' season of The Bachelor but was eliminated during Week 2. Heading into Season 7 of Bachelor in Paradise, Alana told celebrity host Tituss Burgess she was going to be selfish and go after what she wanted. When he asked what, exactly, that was, Alana said "Chris."
While this was obviously bad for Jessenia Cruz, who had been dating Chris in Paradise up until that point, it seemed like Alana and Chris had a connection that formed before the beach. ("Chris and Alana had a little bit of a relationship before Paradise," Ivan Hall noted on the show.)
Here's everything else to know about Alana:
Alana Milne's Real Job
Since fans didn't really get to know Alana very well during Matt's season, there's plenty to learn. According to her LinkedIn, Alana is a photographer, executive assistant, and content creator. She's been working with Milne Studio — which seems to have some relation to her, since that's her last name — for over five years. While she's based in Toronto, Canada, it looks like she spends a lot of time in Los Angeles as well.
Alana Milne's Social Media
Alana's social media is pretty much a standard 27-year-old's. A quick peek at her Instagram will show you a ton of travel grams, bikini pics, and Bachelor promo. As of Sept. 7, Alana doesn't have a ton of content on TikTok, but chances are that'll change if she keeps riding the BIP fandom wave.
Facts About Alana Milne
According to her ABC bio, Alana is a big fan of adventuring and visiting wineries or doing artsy things like painting and cooking. She wants to find a guy she can "share in the everyday pleasures of life" with. While it seems like she might have had that heading into Paradise with Chris, it doesn't look like their bond was able to withstand the beach.
Bachelor in Paradise Season 7 airs Mondays and Tuesdays at 8 p.m. ET on ABC.