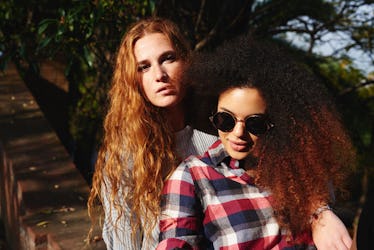 3 Zodiac Signs Least Compatible With Virgo, So Swipe Left
Analytical Virgos needs a match who can keep up.
It takes a special kind of person to get along with a Virgo, and as someone who's had Virgo BFFs and crushes, I throw no shade in saying so. (OK, maybe a little.) Folks born under this zodiac sign (Virgo season runs from Aug. 23 to Sept. 23) are intense, hard-working perfectionists. They're all about their business, which can mean two things: They have a super-low tolerance for impracticality, and it can be hard for them to open up. That said, not everyone makes a compatible match for this sign, and those zodiac signs who aren't compatible with Virgos butt heads with them because their approaches to life are just too different.
Of course, nothing is impossible when it comes to sex and love, especially when you throw astrology into the mix. Technically, Virgo's least compatible signs can still make romance work. Incompatible sun signs may be the most "traditional" signs to analyze, but you can learn even more (and probably find more signs of compatibility) by analyzing your and your partner's birth charts. That way, you can compare the compatibility of your Venus signs (which are your love signs) and your Mars signs (your sex signs).
With that in mind, here are the three zodiac signs who don't need to read a Virgo horoscope to know they'd be the least compatible with them.
If you and your partner are a Virgo-Cancer, Virgo-Leo, or Virgo-Sagittarius couple, don't stress. There's probably still plenty of compatibility in the rest of your birth charts to make the relationship work, or to keep it working. But the next time you're arguing about vacation planning, feelings, life goals, or any other situation where you butt heads, consider keeping these tidbits about your astrological compatibility in mind.
Experts cited:
Elaine Dawn, astrologer
Wayne Gonzalez, astrologer
Ophira and Tali Edut, astrologers
This article was originally published on