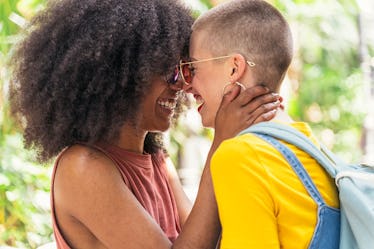 This Sex Study Reveals Some Pretty NSFW Things About Your Zodiac Sign
It's nearly impossible to talk about star signs without talking about sex and love, too. Convos about the zodiac signs, sex, and dating bubble up out of curiosity: "What is my crush like?" "Did that first date showcase their sun sign or rising sign?" "I wonder what they're like in bed." "I wonder what we'd be like in bed." It's why you scheme on oh-so-casually asking your crush about their birth time. Or if they're hip, you add them on Co-Star. Some more astro tea you can keep in your back pocket is the zodiac sign's sexual preferences, courtesy of SKYN Condoms' 2019 Sex & Intimacy Survey.
SKYN collected all its juicy, sexy data from 2,000 adults, aged 18- to 38-years-old, in the U.S. and Canada. The survey dove deep on Gen Z and millennial sexting habits, and lube usage. It also addressed how people share partners, either in bed or in relationships, and our kinkier endeavors, too. But even more interesting is how SKYN broke all that knowledge down by star sign. Here are some voyeuristic glimpses into sexual preferences by zodiac sign —because maybe being adventurous, kinky, or generous in bed is really up to the stars.